Live Well San Diego
Home
Menu
CLOSE
Header Search Box - Custom Content
Social and Emotional Wellness
Live Well Schools continuously gathers information about school wellness from school district superintendents and a main concern of superintendents was the need for behavioral health services. Accessible social and emotional health programs for schools, teachers, students, and community members have a major impact on a student's academic outcomes and overall well-being. Live Well Schools continues to make building relationships between schools and behavioral health providers a top priority.
The Live Well Schools Model Local School Wellness Policy includes language on social and emotional wellness, emphasizing the importance of investing in funding for behavioral and mental health supports for students.
The Live Well Schools Local Control and Accountability Plan (LCAP) analysis includes data and trends on district investments in social and emotional support including school connectedness, school counseling and staff professional development for mental health.
Access and Eligibility for Services
HHSA-funded behavioral health treatment services are intended for children and adolescents who are either experiencing a behavioral health crisis (such as depression, suicidal thoughts, extreme anxiety, and substance use) or who require behavioral health services in order to function in school, at home or in the community. Generally, children's treatment services are for Medi-Cal beneficiaries and low-income individuals up to age 21.
Key resources offered by the County of San Diego include the following.
Why Behavioral Health Matters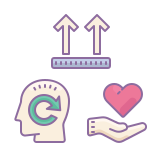 Behavioral Health encompasses mental health and wellbeing through the treatment of mental and substance use disorders. Students with frequent feelings of internalized distress (e.g., sadness, anxiety, depression) show diminished academic functioning and those with externalized distress (e.g., anger, frustration, and fear) exhibit school difficulties including learning delays and poor achievement and acting out behavior.
This updated version of Tools for Schools is the result of ongoing meetings and feedback with school district leadership and personnel, where behavioral health issues were overwhelmingly cited as a top concern.
Behavioral health has a strong relationship to student academic outcomes as found in research and literature on the impact of behavioral health supports in school-aged children:
K-12 students who participated in emotional learning programs improved grades and standardized test scores by 11 percentile points compared to control groups
Improving a school's climate is associated with increases in student performance in reading, writing, and mathematics
Interventions that strengthen students' social, emotional, and decision-making skills also positively impact their academic achievement
Mental Health in Childhood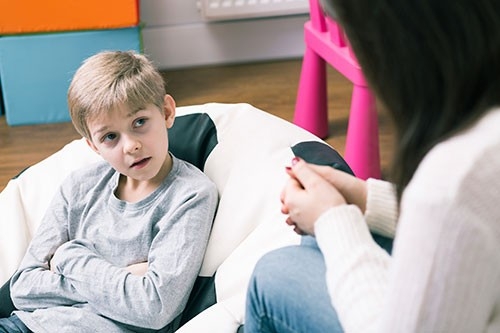 Mental health in childhood means reaching developmental and emotional milestones, learning healthy social skills, and building coping skills for when one faces challenges. Mentally healthy children are resilient and are prepared to function well at home, in school, and in their communities.
Mental health disorders among children impact the way children typically learn, behave, or handle their emotions, which can result in distress and difficulties getting through the day. Examples of mental health disorders include the following.
Anxiety
Depression
Oppositional Defiant Disorder (ODD)
Conduct Disorder (CD)
Attention-Deficit/Hyperactivity Disorder (ADHD)
Obsessive-Compulsive Disorder (OCD)
Post-traumatic Stress Disorder (PTSD)
The annual report from Health and Human Services Agency's (HHSA) Children, Youth & Families Behavioral Health Services summarizes cumulative system demographics and clinical outcomes for children and adolescents served by the County of San Diego's, Health and Human Services Agency (HHSA), Children, Youth & Families Behavioral Health Services (CYFBHS) in Fiscal Year (FY) 2017-18 (July 2017 – June 2018). The primary focus of this annual report is CYFBHS mental health services, with limited information also available on prevention, early intervention, and addiction treatment.
Below are statistics on children and youth (up to age 21) who received mental health treatment services from the County of San Diego Behavioral Health Services during fiscal year 2017-18:
Total of 15,430 children and youth received services

55% were male and 45% were female
60% were Hispanic/Latino
20% White
9% Black/African-American
3% Asian/Pacific Islander
0.5% Native American
7.5% Other/Mixed or Unknown

The four most common diagnostic categories were depressive disorders, stressor and adjustment disorders, anxiety disorders, and attention deficit hyperactivity disorder (ADHD)
Resources
Social and Emotional Learning
The Collaborative for Academic, Social, and Emotional Learning defines social and emotional learning (SEL) as "the process through which children and adults understand and manage emotions, set and achieve positive goals, feel and show empathy for others, establish and maintain positive relationships, and make responsible decisions."
Introduction of social and emotional learning during early childhood can positively assist achieving psychosocial developmental tasks of adolescence.
Schools can create a predictable, reliable and consistent learning environment that cultivates safety, support, and positive relationships for students.
Schools can implement SEL practices within the school classrooms and climate without hiring third-party services or speakers.
Research has found a consistent, positive effect of incorporating social and emotional skill building into learning plans across all student demographic groups.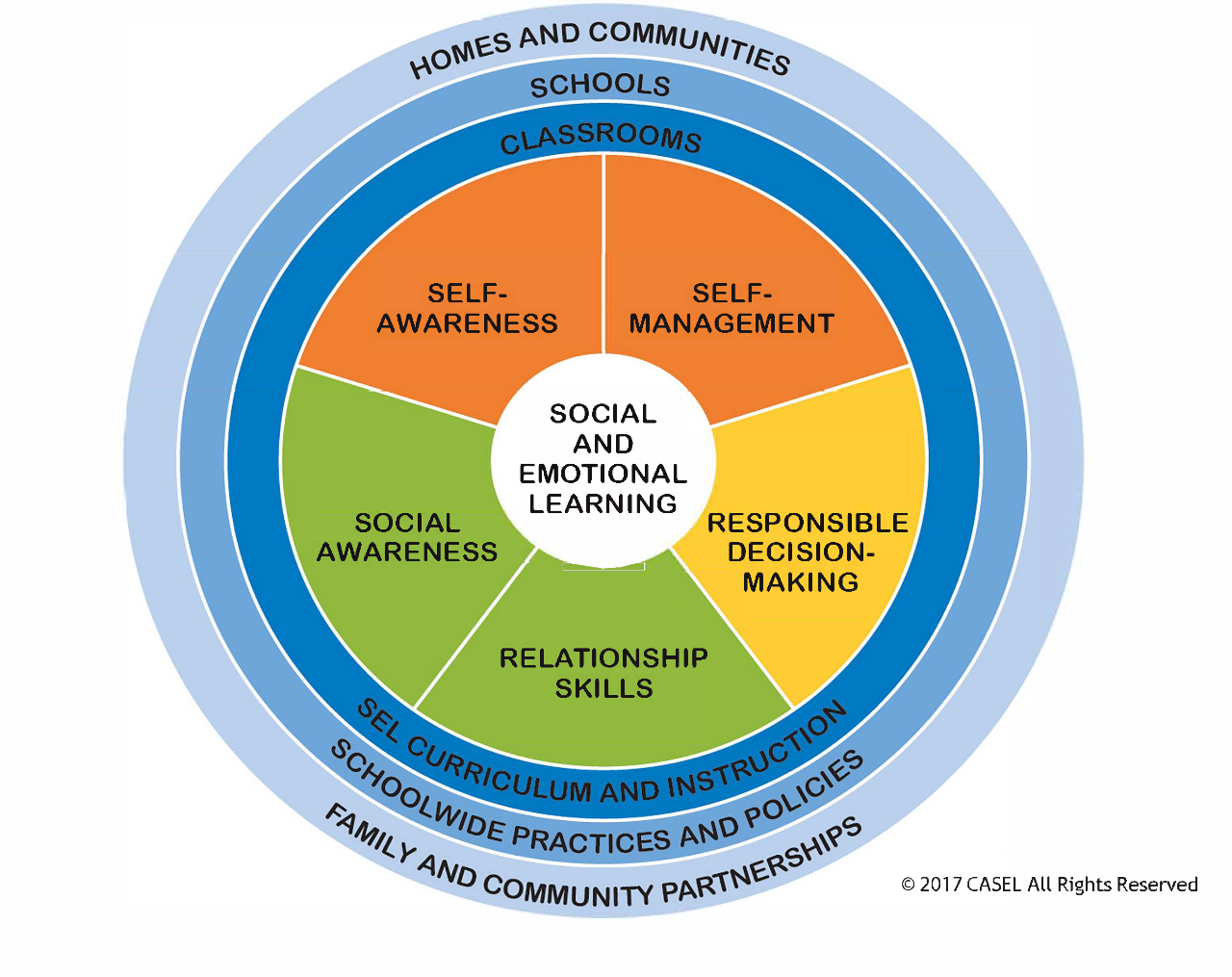 The five core competencies of Social & Emotional Learning are as follows.
Self-awareness
Self-management
Social awareness
Responsible decision making
Relationship skills
Learn how to introduce SEL in the school climate and classroom on the CASEL website.
Mid-term effects of Social & Emotional Learning in the classroom has resulted in:
Increase problem-solving skills
Empathetic communication in students and adults
Better response and participation in restorative practices
Increased emotional and behavioral self-control
Increased social and emotional competence
Lower rates of suspension and expulsion
Long-term effects of Social & Emotional Learning on the students' adult lives include:
Increased academic success
Improved life outcomes
Improved economic mobility and reduced poverty
Less substance misuse disorder
Substance Use
According to Substance Abuse and Mental Health Services Administration, substance use disorders relate to the use of alcohol, tobacco, cannabis, stimulants, hallucinogens, and opioids. A substance use disorder occurs when the recurrent use of alcohol, and/or drugs causes clinically and functionally significant impairment, such as health problems, disability, and failure to meet major responsibilities at work, school, or home.
Below are statistics on youth ages 12 to 17 who received alcohol and drug services from the County of San Diego Behavioral Health Services during fiscal year 2017-18:
Total of 1,414 adolescents received services in both outpatient and residential treatment

69% were male and 31% were female
53% were Hispanic/Latino
24% White
8% Black/African-American
4% Asian/Pacific Islander
2% Native American
9% Other/Mixed or Unknown

79% of this age group's primary choice of drug was marijuana
7% of this age group's primary choice of drug was methamphetamine
10% of this age group's primary choice of drug was alcohol
FY2018-19 HHSA Children, Youth and Families Systemwide Annual Report
Fees and Funding
Behavioral health services provided through HHSA are financed through federal, state, and local funding, as well as specialized grants and patient fees. Fees for services are based on income and the number of family members in the home. This Uniform Method for Determining Ability to Pay (UMDAP) is mandated by the State. Medi-Cal, Medicare, and other insurance coverage are taken into account in determining the individual's monthly payment. No person who otherwise qualifies for services will be turned away due to inability to pay.