Live Well San Diego
Home
Menu
CLOSE
Header Search Box - Custom Content
Recognized Partners across San Diego County are the driving force behind the strength, reach and impact of the Live Well San Diego vision. Read their inspiring success stories below.
Changes in Greenhouse Gas Emissions since 2016: An Overview Among Participating ReCAP Cities in San Diego County
Post Date:
04/24/2023 1:56 PM
Author: Live Well San Diego Data Team

Introduction
Greenhouse gases trap and keep heat in the atmosphere.1 There are several types of greenhouse gases, such as carbon dioxide, methane, and nitrous oxide.1 These gases are contributing to climate change.2 Carbon dioxide is the main greenhouse gas that is produced through human activities. In the United States, 79% of all greenhouse gas emissions (GHG) were produced by human activities in 2020.2 This was mainly due to transportation, electricity, and industry. The combustion of fossil fuels (such as gas and diesel) was the largest source in 2020, which included domestic transportation (e.g., cars) and rail.2 Electricity production was the second largest source in 2020, followed by industry that includes producing mineral products (such as cement).2 Carbon dioxide emissions in the United States have decreased by 8% since 1990.2 However, decreases seen in recent years were mainly due to the response to the coronavirus pandemic, which led to a decrease in energy use and transportation.

Transportation and GHG Emissions

The United States Environmental Protection Agency states that in 2020, 27% of GHG emissions came from the transportation sector.3 Because of this, the transportation sector and those who use it must play a significant role in mitigating climate change.4 Developing a cleaner and more sustainable transportation system that works for everyone is crucial. Currently, the Department of Transportation is working towards ensuring a 50-52% decrease in U.S. emissions by 2030 and their Strategic Plan includes climate and sustainability as priorities for the future.4

Health Effects

Worsening air pollution levels have adverse effects on respiratory and cardiovascular conditions.5 Evidence suggests that chronic exposure of carbon dioxide emissions may have direct health risks in inflammation, kidney calcification, bone demineralization, oxidative stress, and endothelial dysfunction.5 Continuous exposure to elevated levels of carbon dioxide (<5,000 ppm) could cause direct risks in human health.5 However, early evidence indicates potential health risks of exposures as low as 1,000 ppm. This exposure is already exceeded in many indoor environments, such as crowded indoor rooms with reduced building ventilation rates.5

Children, pregnant women, older adults, individuals with disabilities, individuals with chronic medical conditions, and certain occupational groups are the most vulnerable to health stressors.6 For example, children with underdeveloped immune systems may have higher sensitivity to airborne allergens, and individuals with asthma or chronic obstructive pulmonary disease may be more sensitive to air pollution.6

Furthermore, climate change causes changes in temperature and rainfall, which can alter the distribution and behavior of insects and increase risks of infectious diseases.7 Moreover, increases in precipitation and storm surges can lead to more water-related illnesses.7 Climate change also negatively impacts agriculture safety, exposing people to contaminated foods which can result in foodborne illnesses.7

San Diego County

The San Diego region is one of the most biologically diverse areas in the world with several natural features such as lagoons, foothills, mountain ranges and deserts.8 With this diversity, it is important to protect the land for future generations. San Diego has shown active involvement in climate planning to protect the county's natural resources by collaborating with other local governments, public agencies, local non-profits, universities and businesses to prepare plans and programs in alignment State efforts.8 In 2018, the County of San Diego Board of Supervisors adopted the 2018 Climate Action Plan (CAP).8 This plan outlines the measures and strategies that need to be taken to reduce the county's contribution of GHG emissions to progress towards the 2020, 2030, and 2050 GHG reduction goal. Staff are currently working on an updated CAP to comply with the California Environmental Quality Act. The County of San Diego is committed to implementing the CAP successfully by engaging in ongoing collaborations with private and public sector partners and the community.

The San Diego County's Regional Decarbonization Framework is a science-based holistic approach to support the region's decarbonization efforts.9 The County of San Diego is in partnership with UC San Diego School of Global Policy and Strategy and the University of San Diego (USD) Energy Policy Initiatives Center, and Inclusive Economics. The framework is composed of a technical report, a workforce report, and an implementation playbook to better understand the role of greenhouse gases and decarbonization.9

Regional Climate Action Planning Framework (ReCAP)

In an effort to support and monitor CAP's progress, the San Diego Association of Governments (SANDAG) prepared the Regional Climate Action Planning Framework (ReCAP) where SANDAG collaborated with local agency staff to monitor and implement CAP over time.10 ReCAP provides snapshots of participating jurisdictions to help support and monitor community-wide GHG emissions and CAP's implementation.10
Objective
This Live Well San Diego Indicator Series technical report aims to explore the impact of greenhouse gas emissions among participating ReCAP San Diego cities and view the breakdown of greenhouse gas emissions by municipalities.
Methods
SANDAG is a council of governments that implemented the 17 Sustainable Development Goals (SDGs) to achieve a sustainable future for San Diego. One of the SDGs measures climate actions. SANDAG collected the data from the SANDAG's ReCAP and the 2021 Regional Plan.11 Indicator 13.2.2 measures GHG emissions from each municipality in San Diego County.11 The City of San Diego and Coronado did not participate in ReCAP, thus GHGs are not represented.12

Emissions are organized by the year they took place and its source. Data was modeled and estimated, but not directly measured.12 An Activity Based Model (ABM) was created to model and estimate the vehicle miles traveled (VMT) and corresponding GHG emissions data for transportation.13 ABM predicts ongoing and new projects occurring in the region. The data for 2016 was set as the base line year and was used to match observed data after 2016.13 All numbers have the unit of metric tons of CO2e. This measurement captures the climate change impact of all greenhouse gases proportional to the amount of warming each gas creates. It should be noted that for 2020, due to the COVID-19 pandemic effects on the ABM, there is missing VMT data from transportation as it does not predict economic recessions, pandemics, nor world/state crises.1
Results
Total Emissions for San Diego County

Figure 1 demonstrates the forecasted total emissions for San Diego County from 2016 to 2050. In 2016, there was 26 million metric tons of CO2e produced and in 2050 it is predicted to be at 18 million metric tons of CO2e. A 40% reduction of overall GHG emissions is the target goal for San Diego County in 2050.

Figure 1. Forecasted Total Emissions for San Diego County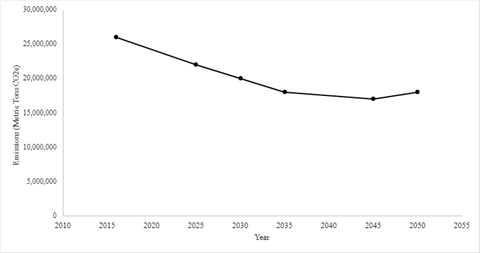 Note: Passenger Cars and Light-Duty (No SAFE Rule Impact) refers to the Safer Affordable Fuel-Efficient (SAFE) Vehicles Rule, issued by NHTSA and EPA. These rules set tough but feasible fuel economy and carbon dioxide standards that increase 1.5% in stringency each year from model years 2021 through 2026. "No SAFE Rule Impact" indicates that the forecast model does not include the impact of the SAFE Rule. Data was prepared and updated by SANDAG, May 2022.11

San Diego County Emissions by Source

Figure 2 highlights the breakdown of emission sources in San Diego County among ReCAP participating cities. Passenger cars and light-duty vehicles ranked highest in 2016 (40%), and is set to rank highest in 2025 (36%), and 2030 (35%). Electricity production ranked second highest in 2016 (21%) and is set to rank highest in 2025 (15%), and in 2030 (9%). Natural gas production is set to rank second highest in 2030 (17%), and third highest in 2016 (12%) and in 2025 (15%).

Figure 2. Source Breakdown of San Diego County Emissions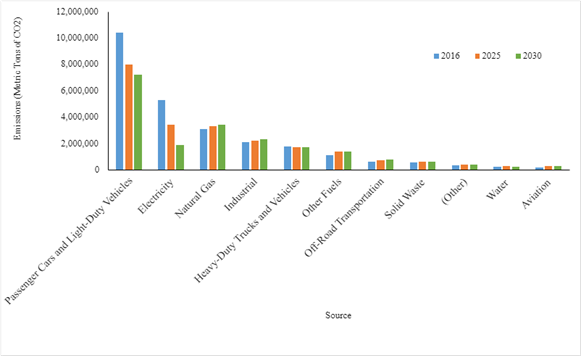 Data was prepared and updated by SANDAG, May 2022.11

Transportation Emissions

Figure 3 reflects the emissions produced by transportation in 2016 and 2018 by municipality in San Diego County cities participating in ReCAP. There was a 2.8% increase in transportation emissions among all municipalities.

Figure 3. Transportation Emissions by Municipality in 2016 and 2018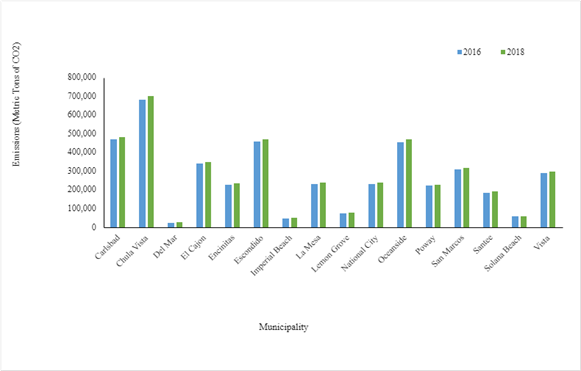 Data was prepared and updated by SANDAG, May 2022.11

Community-Based Intervention
There are several ways we can reduce GHG emissions in our environment such as using public transit as a form of active transportation. Public transit and active transportation can decrease motor vehicle usage, reduce GHGs and air pollution and help people engage in physical activity.14 Active transportation refers to any form of human powered transportation and low speed electronic assisted devices. Some examples include but are not limited to bicycles, electric wheelchairs or scooters and skateboards. If you are interested in active transportation, SANDAG has a website called iCommute that provides information about carpool services, a subsidized vanpool program, transit solutions, regional support for biking, information about teleworking, and bike and pedestrian safety program support for schools.15 The iCommute website also provides an interactive San Diego Regional Bike Map that shows you the bike paths you can take.

As for public transit, the San Diego Metropolitan Transit System (MTS) provides the community with all-electric trolleys and near-zero emission buses that reduce the negative environmental impacts.16 Recently, a pilot program was implemented called The Youth Opportunity Pass which is sponsored by SANDAG and County of San Diego to provide youth with free MTS and North County Transit District (NCTD) rides.17 Anyone 18 years and younger may ride MTS and NCTD services for free using the PRONTO app or card. UCSD students may qualify for a free Triton U-Pass membership for unlimited access to MTS and NCTD bus and trolley routes during the academic quarters.18 Undergraduate and graduate students who have paid their quarterly registration fees are eligible for the pass. Other colleges and universities may qualify for free or reduced fare. Please review policies on the MTS website for free or reduced fare and connect with your student services for more information.

Among the Live Well San Diego Recognized Partners advocating for a positive impact on the environment via active transportation are Circulate San Diego and the San Diego Bike Coalition. Circulate San Diego focuses on improving pedestrian and bicycle safety. They encourage residents to be physically active by advocating for affordable and convenient public transportation. They prioritize having a transportation network that promotes active transportation and reduces GHG emissions, limits pollution and protects the undeveloped habitat.

The San Diego Bike Coalition educate residents on how to safely use public roadways and advocates for the installation of complete streets. Their mission is to advocate and protect the rights of everyone who rides bicycles. Some of the work they do involves conducting educational programs, promoting awareness of bicyclists and bicycling issues, review infrastructure improvements, acts as a voice for bicyclists, and organize community bike rides to encourage biking as a friendly form of transportation and recreation.

If you are interested in learning more about GHG emissions in other County of San Diego cities and how to reduce emissions, please visit the following websites:

Sustainability Division | City of San Diego Official Website
Climate Action Plan | Comment Coronado (projectcoronado.org)
2021 Annual Monitoring Report (sandiegocounty.gov)
Start with these ten actions! | United Nations


References
United States Environmental Protection Agency. Overview of Greenhouse Gases. US EPA. Published May 16, 2022. https://www.epa.gov/ghgemissions/overview-greenhouse-gases
‌United States Environmental Protection Agency. Sources of Greenhouse Gas Emissions. US EPA. Published August 5, 2022. https://www.epa.gov/ghgemissions/sources-greenhouse-gas-emissions
‌United States Environmental Protection Agency. Fast Facts on Transportation Greenhouse Gas Emissions. US EPA. Published August 27, 2018. https://www.epa.gov/greenvehicles/fast-facts-transportation-greenhouse-gas-emissions
‌Climate Action | US Department of Transportation. www.transportation.gov. Published July 29, 2022. https://www.transportation.gov/priorities/climate-and-sustainability/climate-action
‌Jacobson TA, Kler JS, Hernke MT, Braun RK, Meyer KC, Funk WE. Direct human health risks of increased atmospheric carbon dioxide. Nature Sustainability. 2019;2(8):691-701. doi:https://doi.org/10.1038/s41893-019-0323-1
‌People Who Are Vulnerable to Climate Change - Climate Change and Human Health. National Institute of Environmental Health Sciences. https://www.niehs.nih.gov/research/programs/climatechange/health_impacts/vulnerable_people/index.cfm
‌National Institute of Environmental Health Sciences. Health Impacts - Climate and Human Health. National Institute of Environmental Health Sciences. Published May 11, 2022. https://www.niehs.nih.gov/research/programs/climatechange/health_impacts/index.cfm
‌County of San Diego. Climate Action Plan. Published February 2018. https://www.sandiegocounty.gov/content/dam/sdc/pds/advance/cap/publicreviewdocuments/PostBOSDocs/San%20Diego%20County%20Final%20CAP.pdf
Regional Decarbonization Framework. Sandiegocounty.gov. Published 2023. Accessed April 12, 2023. https://www.sandiegocounty.gov/content/sdc/sustainability/regional-decarbonization.html#:~:text=The%20San%20Diego%20Regional%20Decarbonization%20Framework%20is%20the
SANDAG - Regional Climate Action Planning Framework & Monitoring. www.sandag.org. Accessed April 10, 2023. https://www.sandag.org/projects-and-programs/environment/climate-action-planning/regional-climate-action-planning-framework-and-monitoring
SDG Indicator 13.2.2 Story Page. opendata.sandag.org. Accessed March 28, 2023. https://opendata.sandag.org/stories/s/nhje-bj57
‌SDG Indicator 13.2.2 Climate Action - Jurisdiction | SANDAG Open Data Portal. opendata.sandag.org. Accessed March 28, 2023. https://opendata.sandag.org/Sustainable-Development-Goals/SDG-Indicator-13-2-2-Climate-Action-Jurisdiction/t8p4-ft2b
‌Appendix D: Sustainable Communities Strategy Documentation and Related Information. Accessed March 28, 2023. https://www.sandag.org/-/media/SANDAG/Documents/PDF/regional-plan/2021-regional-plan/final-2021-regional-plan/2021-regional-plan-appendix-d-2021-12-01.pdf
Pedestrian and Bicycle Information Center. Environment. Accessed March 29, 2023. Pedestrian & Bicycle Information Center (pedbikeinfo.org)
iCommute SANDAG. About iCommute. Accessed March 29, 2023. https://www.icommutesd.com/about-icommute
San Diego Metropolitan Transit System. About MTS. Accessed March 29, 2023. https://www.sdmts.com/about/about-mts
San Diego Metropolitan Transit System. Youth Opportunity Pass Program. Accessed March 29, 2023. https://www.sdmts.com/fares/youth-opportunity-pass-program
University of California San Diego. Triton U-Pass for Students. Accessed March 29, 2023. https://transportation.ucsd.edu/commute/transit/u-pass.html#:~:text=The%20Triton%20U-Pass%20is%20a%20program%20offered%20to,these%20services%3A%20NCTD%3A%20Coaster%20Train%2C%20FLEX%20and%20LIFT
Return to full list >>
Check Out Our Social Media Wall