Live Well San Diego
Home
Menu
CLOSE
Header Search Box - Custom Content
Community Leadership Teams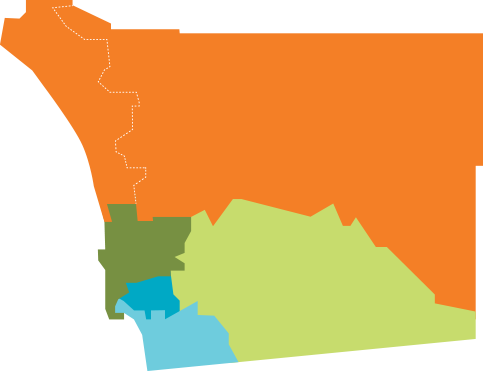 Do you have easy access to healthy food options? Do you feel safe to walk around your neighborhood? Are your family and friends thriving?
The County of San Diego is working hard with community partners so all residents can answer each of these questions with a definitive "Yes!," but we need your help. You can get involved in Live Well San Diego by getting involved in your own community.
Select the region names below to learn more about events, activities and leadership team meetings in your area.
Community Health Assessments and Improvement Plans
The Live Well San Diego vision was a response to a startling statistic that found that throughout the nation and locally three behaviors (poor nutrition, lack of physical activity and tobacco use) were contributing to four diseases (heart disease/stroke, cancer, type-2 diabetes and respiratory conditions) that resulted in over 50% of the deaths in the nation (3-4-50: Chronic Disease in San Diego County).
A Community Health Assessment (CHA) is a collaborative process of collecting information to help educate and mobilize communities, develop priorities, secure resources and plan actions to improve a region's health. The CHA sets the framework for developing Community Health Improvement Plans (CHIP), also known as Community Enrichment Plans.
The CHIP outlines an action plan to address several strategic focus areas that are based on community health, safety and thriving needs identified by the Community Health Assessment. The CHIP helps health officials and community members' work together to set priorities, direct the use of resources, and develop and implement projects and programs to improve community health and wellness over the long term.
2021-22 Community Health Assessment
2019-2021 Community Health Assessment and Plans
2013-2018 Regional Results Reports
2008-2012 Community Health Improvement Plan