Live Well San Diego
Home
Menu
CLOSE
Header Search Box - Custom Content
Recognized Partners across San Diego County are the driving force behind the strength, reach and impact of the Live Well San Diego vision. Read their inspiring success stories below.
Rescue Mission's Academy for Recovery Brings in CalFresh, Mindfulness Practices
Eating well important during recovery
Post Date:
08/23/2023 4:13 PM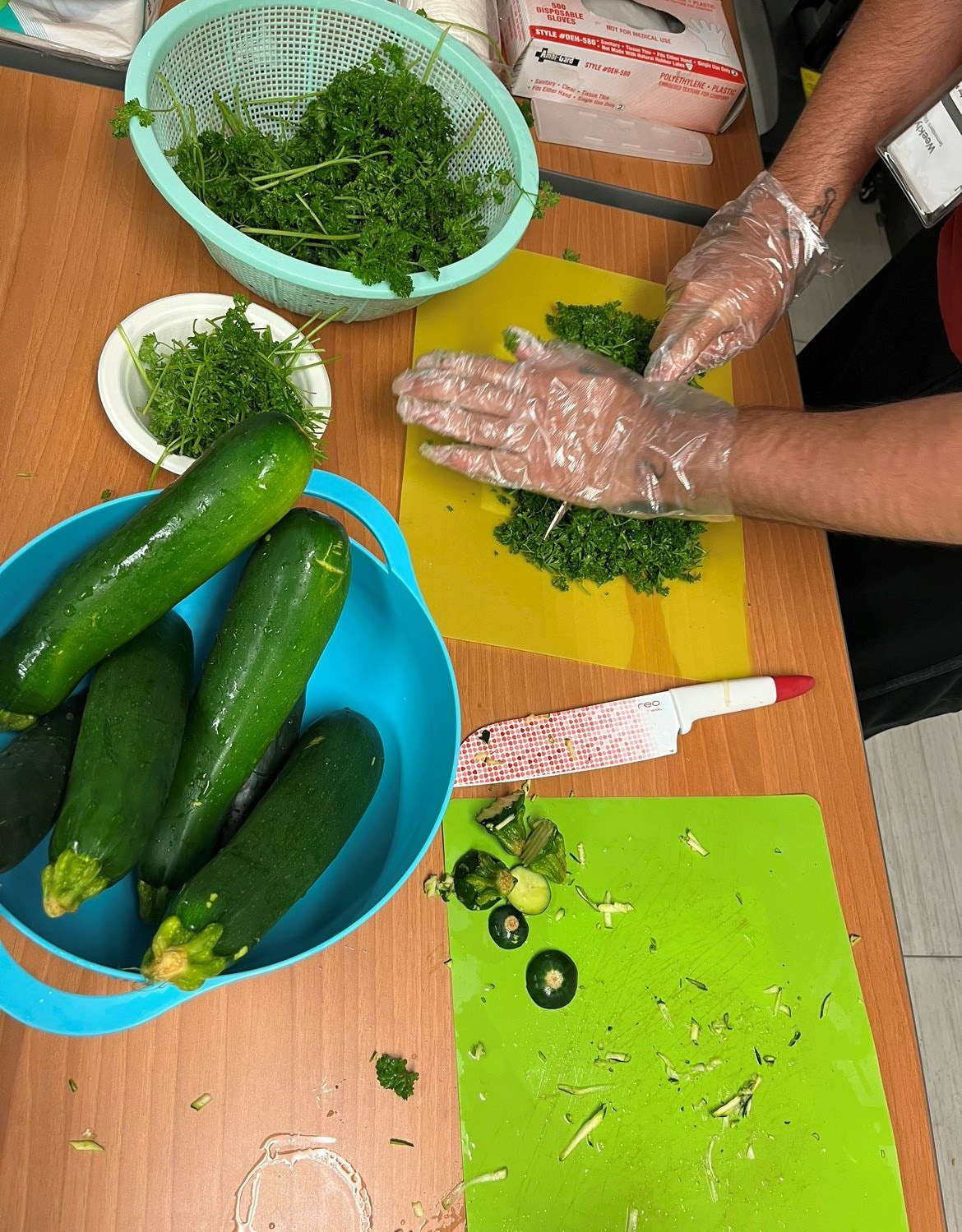 By Barbara L. Hughes, CalFresh Healthy Living Program
Since 1955, the San Diego Rescue Mission has provided meals, shelter, clothing, education, and job-skills training for individuals experiencing homelessness. The Mission has a residential program, called the Mission Academy, which offers a trauma-informed, holistic approach to recovery. This 12-month, three-semester program allows men, women, and single parents to get back on their feet, provides support for people to resume school, and gives residents hope for their futures.
Strength for Recovery Through Nutrition
The County of San Diego's CalFresh Healthy Living program aims to reduce hunger by building partnerships with stakeholders to address food imbalances in vulnerable populations and communities through targeted nutrition education courses, promotora outreach and trainings, and onsite cooking demonstrations. The CalFresh Healthy Living team partnered with the San Diego Rescue Mission in 2021 to offer a hands-on healthy living and nutrition education classroom series of courses as part of the Mission's recovery and job placement program. The primary goal of this partnership was to enhance the healing-centered practices of the Mission while adding a nutrition-related healthy lifestyle component. Learning about mindful activities and nurturing oneself in a way that builds resiliency despite difficult life circumstances was also part of the intervention.
Now in its sixth cycle, the program has seen tremendous success with each class. Two one-hour classes that average 20 students are taught each week over the course of six weeks and are facilitated by CalFresh Healthy Living nutrition specialists and trauma-informed nutrition education-trained Mission staff. Topics range from budget-friendly shopping, reading and understanding food labels, to managing toxic stress and personal health, as well as improving nourishment among families and communities. Participants have been eager to learn and demonstrate safe knife skills, prepare healthy recipes, and share their talents and knowledge with their peers. Students are encouraged to share their personal stories and experiences with food in a safe-space environment.
Adding in Mindfulness
The residents of the one-year program also participated in mindfulness activities to reduce stress while learning nutrition concepts and culinary skills. Many individuals expressed how attending the classes had inspired them to re-create recipe ideas for their lunch or dinner during and after the program. They have also demonstrated character growth with each lesson. For example, timid participants became more comfortable sharing among the group, and were more inclined to participate in food preparation and discussion.
Preliminary survey results have shown favorable nutrition behavior changes. It is anticipated that participants will carry out the skills they have learned and sustain these changes over time.
The CalFresh Healthy Living nutrition class series has now become a mandatory core class that one-year Mission residents must take for program completion. Continued communication and training between the CalFresh Healthy Living team and Mission staff are helping to sustain the partnership. Future plans include meal evaluation and strategies to rework current menu offerings for all San Diego Rescue Mission residents.
Learn more at San Diego Rescue Mission
Return to full list >>
Check Out Our Social Media Wall