Live Well San Diego
Home
Menu
CLOSE
Header Search Box - Custom Content
Recognized Partners across San Diego County are the driving force behind the strength, reach and impact of the Live Well San Diego vision. Read their inspiring success stories below.
Community Health Improvement Partners Invests in RLA Communities
Post Date:
09/01/2023 4:51 PM

Author Yeni Linqui Palomino, Vice President, Community Health Improvement Partners
RLA Project Stipends 2023
Investing in various community activities, programs, and organizations will allow you to enhance the economic health of the community as a whole and amplify the positive impact it has on you, your neighbors, local business, and more. That is why the Resident Leadership Academy (RLA) of San Diego, facilitated by Community Health Improvement Partners, and funded by the County of San Diego, is excited to share that for the fifth year in a row, they have been able to provide resources and support to advance the implementation of community improvement projects and RLA efforts throughout our San Diego County communities.
This new cycle of funding was released in April 2023 with the purpose of distributing a maximum amount of $11,000 for RLA Project Stipends, to active partners and affiliated organizations. The purpose of these RLA Project Stipends is to support RLA trainers, resident leader groups, and community-based organizations, to encourage RLA facilitators and RLA resident leader groups to advocate for themselves and their projects to create environmental changes to the physical or social environment that would promote healthy behaviors throughout the community, such as walking and biking path improvements, public safety improvement efforts, physical activity equipment installation in public spaces, beautification projects, efforts to increase access to healthy, affordable and culturally appropriate foods, climate adaptation projects, coordination of public events that foster social cohesion, resiliency and norms that promote healthy eating and activities. The stipends support implementation of community improvement projects or support start-up costs for new RLAs.
After a thorough application process, Community Health Improvement Partners was able to select and award five exceptional projects. These RLA Project Stipends were allocated based on the themes of community resilience, climate adaptation, quality physical activity opportunities, public safety, economic impact, and social equity and justice. Funding awardees include, Community Housing Works, The Urban Collaborative Project, Bayside Community Center, Casa Familiar, and Imani T. Robinson with Mt. View Community Recreation Group.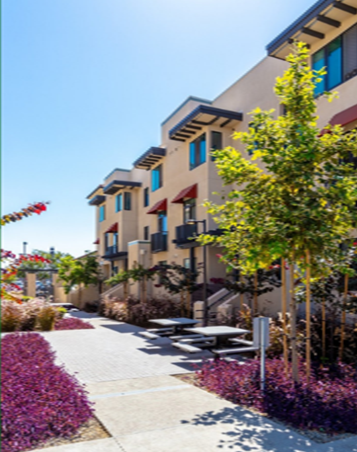 Beautification Projects Play A Role In the Well-Being of a Community by Community Housing Works
Vista Community, North Coastal Region
Members of the Resident Leadership Academy at North Santa Fe - is a transit-friendly, family rental development on a 1.4 acres in downtown Vista - they have identified a need to improve the grounds in their community and provide much-needed beautification projects to create positive changes to the physical environment and promote healthy behaviors in the community. The project entails an addition of tree planting and paintings added to the community.
Trees will provide multiple benefits as helping to clean the air and fight climate change and adding a more vivid area to the community. The works of art will create a more vibrant, attractive, and welcoming neighborhood. They will get the community together to plant trees and flowers. Residents have been concerned about local aesthetics and the environmental issues that can arise. They hope this project will attract more families to spend more time outdoors and live a more active lifestyle. In all, More than 400 residents will benefit from this project.
Linda Vista Tree Planting by Bayside Community Center (BCC)
Linda Vista Community, North Central Region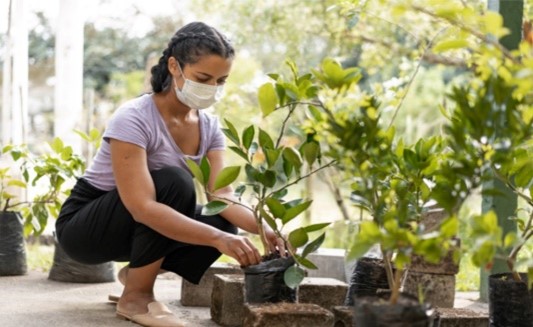 Tree Planting in Linda Vista will be the first of multiple tree-planting events in the community. While planting trees in the community has been discussed as a potential community improvement project previously, this has gained renewed interest as the Bayside Community Center Leaders in Action group has learned more about the Regional Decarbonization Framework, and how these community improvement projects can help reduce the region's carbon footprint.
This project will benefit all 32,941 residents of Linda Vista in multiple ways. The planted trees will help in the ongoing beautification of the neighborhood. The project will also improve the walkability of the community by increasing the shaded area along the sidewalk and at bus stops to help protect from heat illnesses. Finally, this project also serves as a small step towards decarbonization and improving the air quality in Linda Vista. The project will serve as an educational experience for both the Leaders in Action and Bayside Community Center staff to lay the foundation for future tree-planting projects.
UCP Spring 2023 Resident Leadership Academy by The Urban Collaborative Project (UCP)
Greater Southeastern San Diego (SESD) Community, Central Region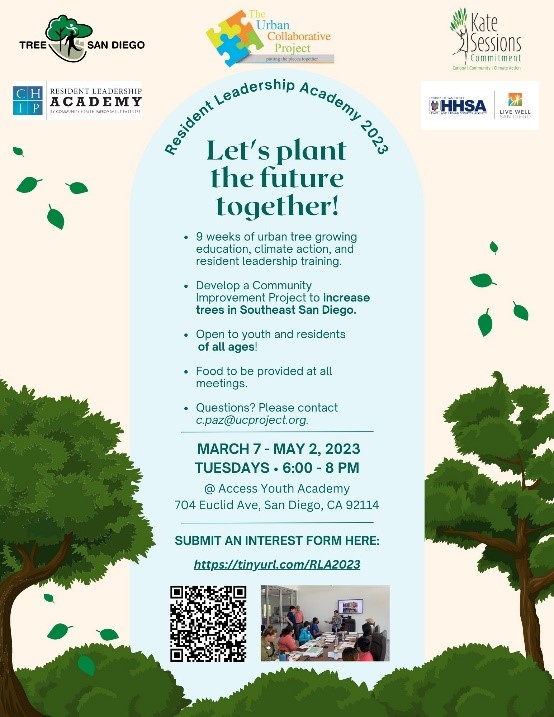 The UCP Spring 2023 RLA was led and facilitated by the Urban Collaborative Project and programming was developed in partnership with Tree San Diego and Kate Sessions Commitment. The cohort had eight participants representing the SESD neighborhoods of Encanto, Emerald Hills, Valencia Park, Chollas View, and Oak Park. Half of the cohort were youth from SESD. With guidance from subject-matter experts, the RLA's community project entails developing a plan that will increase trees throughout SESD to improve the health, well-being, and environmental impact of those that live, work, and play in the community. The immediate impact will reach the eight participants and their families, but the project will ultimately affect all populations in the target community of Greater Southeastern San Diego. Participants will be given opportunities to lead and participate in tree planting projects, will learn proper techniques for growing trees, and will conduct advocacy work to address policies that produce tree coverage inequities in communities of concern (e.g. Maintenance Assessment Districts).
Mountain View Park Landscape, Garden and Beautification Project by Imani T. Robinson
Southeastern San Diego, Central Region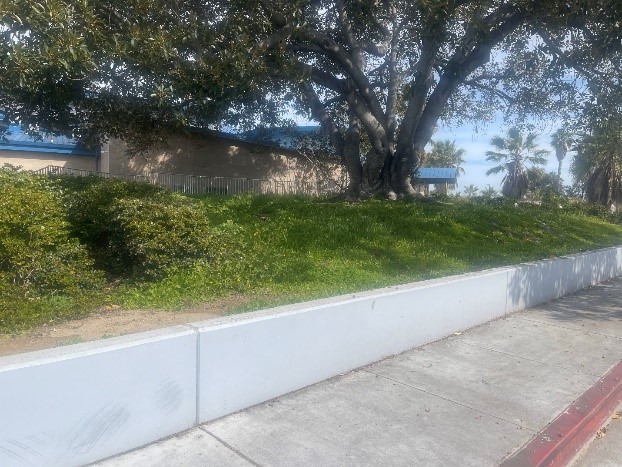 Imani T. Robinson RLA Trainer and Community Leader has been working with Mountain View Community Recreation Group to address some community needs and they have already voted to clean up the landscaping to replace bulky shrubs with more sustainable, low-maintenance succulents, and plants that are more indigenous to the area. The main area of focus for the community improvement project is the entryway. Community members want to clear out the shrubs to create a safer environment by having a clear view to the playground.
Also, they hope to create a cool, quiet space under the over 100-year-old tree located in the park by clearing out the grass, thereby creating a prominent walkway coupled with the installation of benches that will be situated across from the playground. In addition, the park has low walls as part of its overall design, and the Recreation Group aspires to have murals painted in this immediate area to deter tagging and graffiti. The focus of the project is to enhance the landscaping of the area by adding a a future garden, murals, and and nature with plants, birds and insects.
Enhancing San Ysidro- Community Clean Ups by Casa Familiar
San Ysidro Community, South Region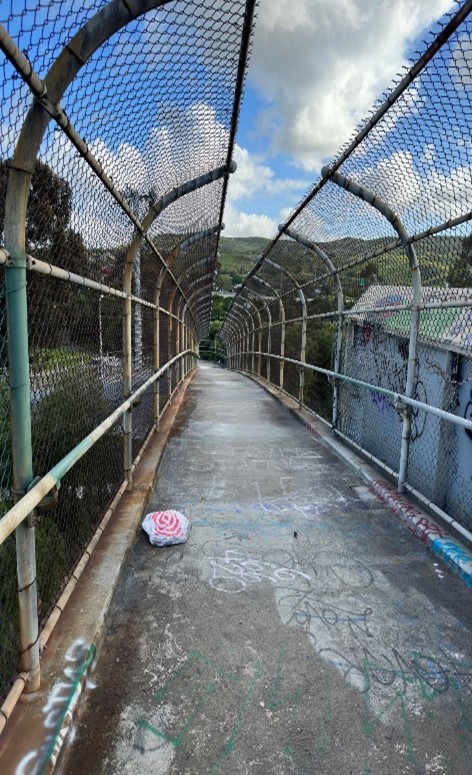 The primary goal of this project is to enhance the community by improving the conditions of the pedestrian bridge located over the 805 Freeway between Willow Road and Calle Primera Street. The focus is to improve the appearance of the overpass (bridge), and ensure that it is properly maintained. To achieve this goal, community clean-up events will be conducted twice a year, where volunteers will participate in various activities such as community outreach, rubbish removal, recycling, and weeding. Volunteer groups will consist of over thirty individuals, including Resident Leadership Academy graduates, Promotoras, students, and community residents. The benefits of this project will extend to several entities in the San Ysidro area, including the nearby Willow Elementary and San Ysidro Head Start schools that serve over 2,500 families as well as the adjacent mobile homes and apartment complexes that house over 4,000 families (city-data.com). The initiative will not only enhance the appearance of the bridge but will also provide a safer and cleaner environment for the community.
Investing in our RLA Leaders
The five awardees, (1) Community Housing Works (CHW), (2) The Urban Collaborative Project (UCP),(3) Bayside Community Center (BCC), (4) Casa Familiar, (5) Imani T Robinson with Mt. View Community Recreation Group have each confirmed through their leadership and development of RLA leaders resourcefulness that they can develop/implement unique and meaningful projects that respond to the evolving needs of their communities. Holding communities together, such as these that continually face challenges rooted in social and structural injustices is vitally important to protecting the community's health. The work of these RLA leaders is essential to moving forward and improving conditions, therefore, investing in local community leadership and addressing evolving community needs is a formula for true success.
CHIP and the County of San Diego are proud and pleased to invest in the development and continuation of these projects and are excited to see how far they will continue to go. CHIP's Vice President of Community Health & Engagement and co-creator of the RLA, Yeni L. Palomino, highlighted that "Were we invest our money and resources truly matters and it is very evident that investing in our RLA communities increases positive outcomes so we are glad to be able to be a part of that … these resident leaders use these RLA Stipends to build on their previous efforts and continue to strengthen and recover from the impacts of being historical underinvested. These projects give us all the hope and encouragement needed for the future of our communities as we embrace and advocate for continued support. This consistent dedication of the RLA to improve the conditions of where people live, work, play and pray will ultimately prevail."
For More Information
To learn more about the Resident Leadership Academy, please email Yeni L. Palomino at ypalomino@sdchip.org. You can also visit the Community Health Improvement Partners RLA website at https://www.sdchip.org/initiatives/resident-leadership-academy/ or the Live Well San Diego RLA website at http://www.livewellsd.org/content/livewell/home/community/resident-leadership-academy.html.
Return to full list >>
Check Out Our Social Media Wall