Live Well San Diego
Home
Menu
CLOSE
Header Search Box - Custom Content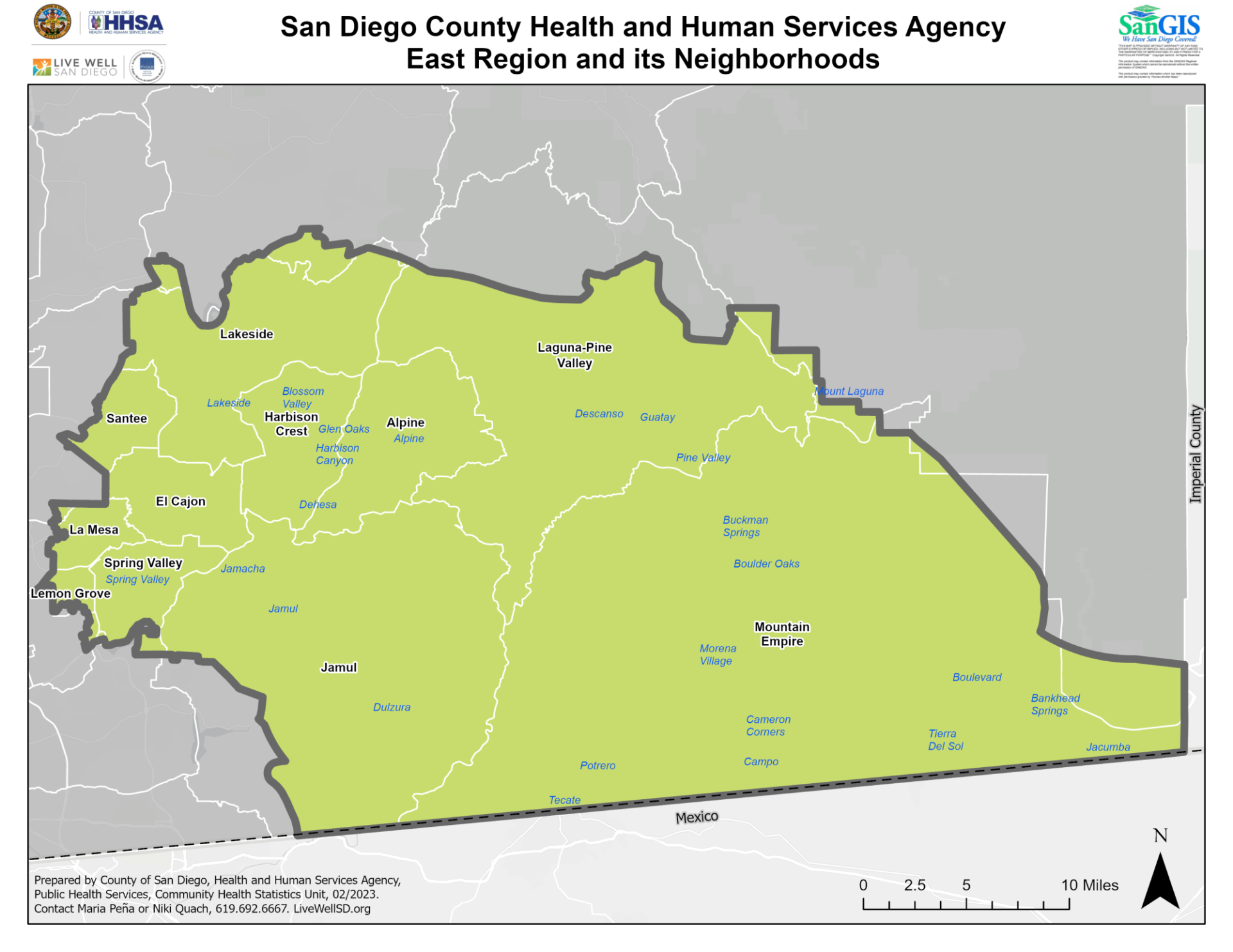 The East Region of San Diego County is the second largest geographical area in the county. It is one of two regions that share an international border with Mexico, and the only region in the county to share a boundary with another county and country.
East Region is a very diverse geographic region in the county, and includes vast valleys, arid landscapes, and mountainous terrain.
The East Region has a population of over 471,000 residents and is comprised of incorporated and unincorporated areas, suburban and rural communities, and Indian reservations. The communities of El Cajon, Lemon Grove, Alpine, Spring Valley and Mountain Empire all make up a portion East Region.
There are three workgroups apart of the Live Well San Diego East Region Leadership Team.
East Region Behavioral Health Solutions:
Empowering East Region residents to access diverse behavioral health and prevention and early intervention resources they need to thrive.
East Region Thriving & Inclusive Communities:
Communicating and engaging residents in developing and promoting diverse and inclusive programs to help our community thrive.
Resilient Youth and Families Collective:
Support a safe environment of networks and resources that connects and empowers youth and families in the East Region.
Meeting Schedule
Meets every 3rd Thursday of the Month- 10:30 am-12:00 pm
In-person
No meeting in December
Next Meeting
January 18, 2024 from 10:30AM-12:00PM
195 E. Douglas Avenue, El Cajon, CA 92020
Community Leadership Team
Community Health Improvement Plan
Additional Resources