Live Well San Diego
Home
Menu
CLOSE
Header Search Box - Custom Content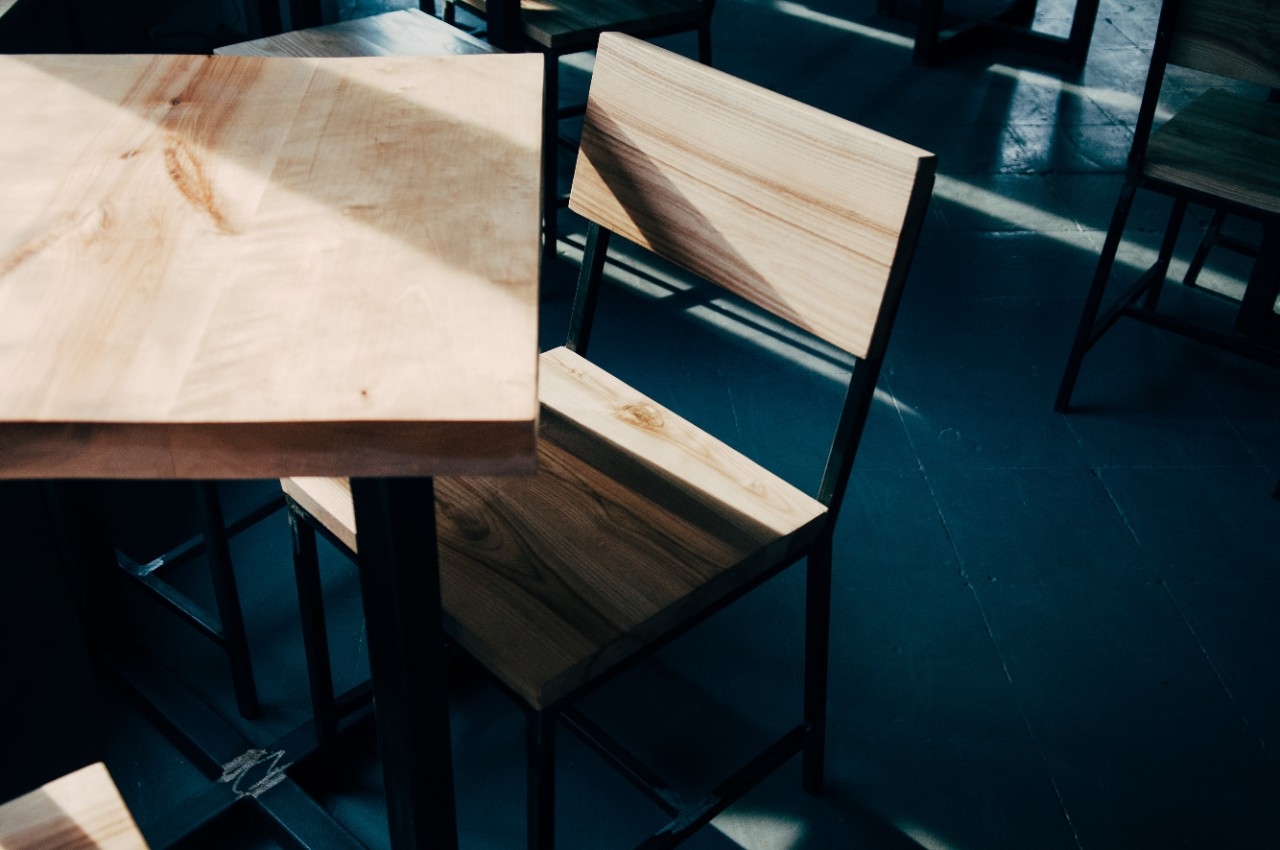 Chronic absenteeism is generally defined as missing 10% or more of days during the school year (approximately 18 days) for any reason including suspensions, changing schools, and excused absences due to illness. Missing just two days of school each month in a traditional school year can result in a student being considered chronically absent.
Resources for Absenteeism & Attendance
Reasons for Chronic Absenteeism
Chronic physical health issues
Mental health conditions
Lack of accessible transportation to school
Safeness of the community environment
Economic and housing instability – Lack of access to essential resources such as food, housing and healthcare can cause excessive absences due to negative impacts on health and wellness of the students and families.
Cultural context – Language barriers and negative interactions at school due to a student's race, ethnicity, religion, gender, disability, or sexual orientation can create an unhealthy school climate leading to aversion to school attendance.
And more – other individual, social, and community impacts can cause a student to miss school days.
Impact of Chronic Absenteeism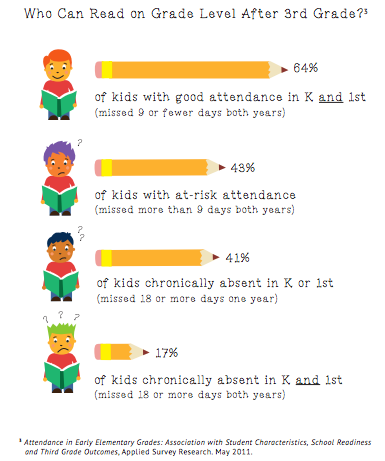 Students who are chronically absent are at risk for falling behind and dropping out of school. Chronic absenteeism can start as early as preschool.
Missing too many days of preschool, kindergarten, and first grade can set students back in their reading abilities. As seen in Who Can Read on Grade Level After 3rd Grade? by AttendanceWorks, studies show that the inability to read at grade-level by third grade is a critical marker for students' future success - putting them at risk for faltering in later grades and more likely to drop out of high school.
Attendance in the Early Grades: Why it Matters for Reading
Students who dropout of high school are also at an increased risk of experiencing health and social problems into adulthood, negatively impacting a student's life-long success.
High rates of chronically absent students in a class can hinder other students' learning when teachers must provide remedial instruction.
Loss of school funding, determined by Average Daily Attendance, from the cumulative missed school days can result in a significant loss of funding for districts.
Research shows that student attendance is critical to the attainment of higher education and positive life outcomes that includes social, mental, and physical health.
Chronic absenteeism can impact the education and workforce development and subsequently limit the future of communities.
Chronic absenteeism can cascade and affect peers, staff, schools and the larger community.
Chronic Absenteeism in San Diego County
Analysis by Live Well San Diego shows that trends of steadily increasing chronic absenteeism rates for students from lower socioeconomic status , minority groups , and other under-resourced student populations.
In San Diego County, 11% of all students were chronically absent in SY 2018-2019; 56,926 students were chronically absent for the county.
In California, 12.1% of all students were chronically absent in that same school year; 755,960 students were chronically absent students statewide.
41,918 (80.7%) of San Diego County's 51,926 chronically absent students are socioeconomically disadvantaged.
The highest rates of chronic absenteeism in San Diego County schools are in students in foster care and students with homelessness, as depicted below for SY 2018-19. These two student subgroups also had the highest increase in chronic absenteeism rates since the start of data collection in SY 2016-17.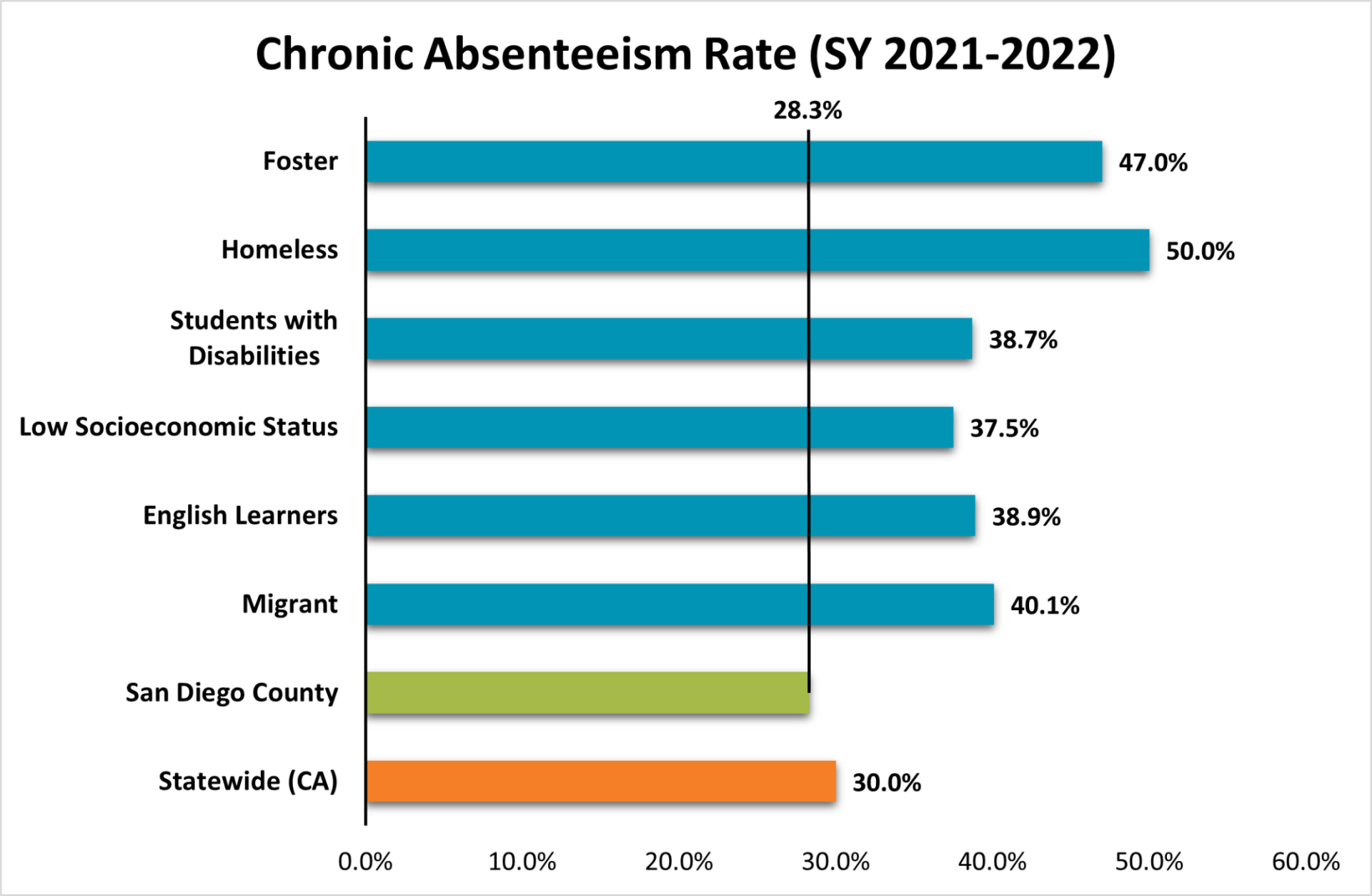 Recent Research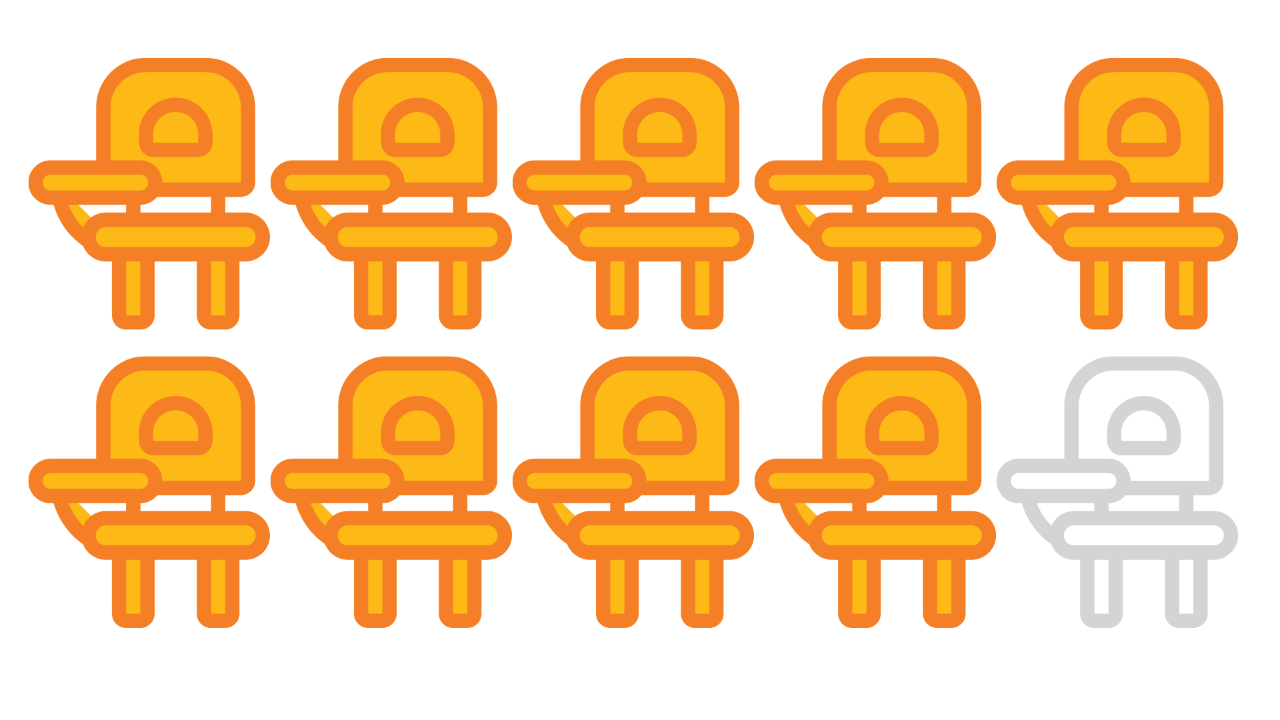 1 in Every 10 Students in San Diego County Are Chronically Absent
11.0% of students — or 56,926 students — in San Diego County were chronically absent in SY 2018-2019. That means one in every ten students were chronically absent in each classroom on average for the county. When isolating by student subgroups, it is clear that there is a disproportionate amount of chronically absent students from under-resourced groups including youth in foster care, youth experiencing homelessness, and students with disabilities.
Table 1. Chronic Absenteeism Rates in Specific Student Subgroups in San Diego County. Data from the California Department of Education.
Student Subgroup
Enrolled Students*
SY 2018-19
Chronically Absent Students
SY 2018-19
Chronic Absenteeism Rate
SY 2018-19
Difference in Chronic Absenteeism Rates since SY 2016-17
Foster Youth
1,774
514
29.0%
+6.9%
Homeless Youth
20,110
5,678
28.2%
+5.3%
American Indian or Alaska Native
2,683
568
21.2%
+1.6%
Students with Disabilities
72,960
13,006
17.8%
+1.2%
Pacific Islander
2,420
400
16.5%
+2.2%
African American
23,519
3,598
15.3%
+1.8%
Socioeconomically Disadvantaged
281,397
41,918
14.9%
+1.3%
Hispanic or Latino
250,688
33,881
13.5%
+1.3%
English Learners
106,973
14,413
13.5%
+2.1%
Not Reported
4,251
521
12.3%
-0.2%
Migrant Education
2,748
299
10.9%
+1.9%
Two or More Races
29,700
2,765
9.3%
-0.2%
White
154,120
12,911
8.4%
+0.1%
Filipino
19,481
917
4.7%
0.0%
Asian
32,249
1,365
4.2%
+0.3%
San Diego County
519,111
56,926
11.0%
+0.8%
California Statewide Rate
6,258,845
755,950
12.1%
+1.3%
*Students are enrolled more than 31 instructional days and are not under an "exempt" status.
As seen above in Table 1, youth in foster care and youth with homelessness are disproportionately increasing in chronic absenteeism rates as compared to their peers who are not in foster care or experiencing homelessness. Specific supports and programs for these student populations can be found in the Tools for Schools searchable database with the key terms such as "foster", "homeless", "chronic absenteeism" or "attendance."
One of the best initiatives schools can start would be to track their students' attendance in order to discover issues to consistent student attendance before it becomes chronic. Possible issues to attendance are increased asthma attacks due to low air quality, lack of safe walking routes to school, bullying and more. Almost 50% of chronically absent students in San Diego County are in high school. Addressing chronic absenteeism early, like starting in Kindergarten, can increase the academic and health outcomes of the students as they advance through the grades.
Supporting Student Health through Programs, Policies and Partnerships
Chronic absenteeism is a complex and challenging issue. Supporting student health to improve attendance requires an interdisciplinary and collaborative approach that includes students, families, schools, and community partners.
Students, families, schools, and community partners can address and improve the physical and social environment around students through targeted wellness interventions, including safe routes to school.
Students can often be their own best advocates on how to improve the safety and positivity of the school climate.
Schools can collaborate with families and students on strategies to monitor attendance and personalize early outreach to prevent patterns of absences.
Recognizing improved attendance at school can increase student self-esteem and reward students in reaching their goals.
Identifying the reasons for student absences from a regional perspective to a student-level view is a key step towards understanding the type of Programs, Policies, and Partnerships needed to improve student attendance and academic success. So what's your role in improving attendance?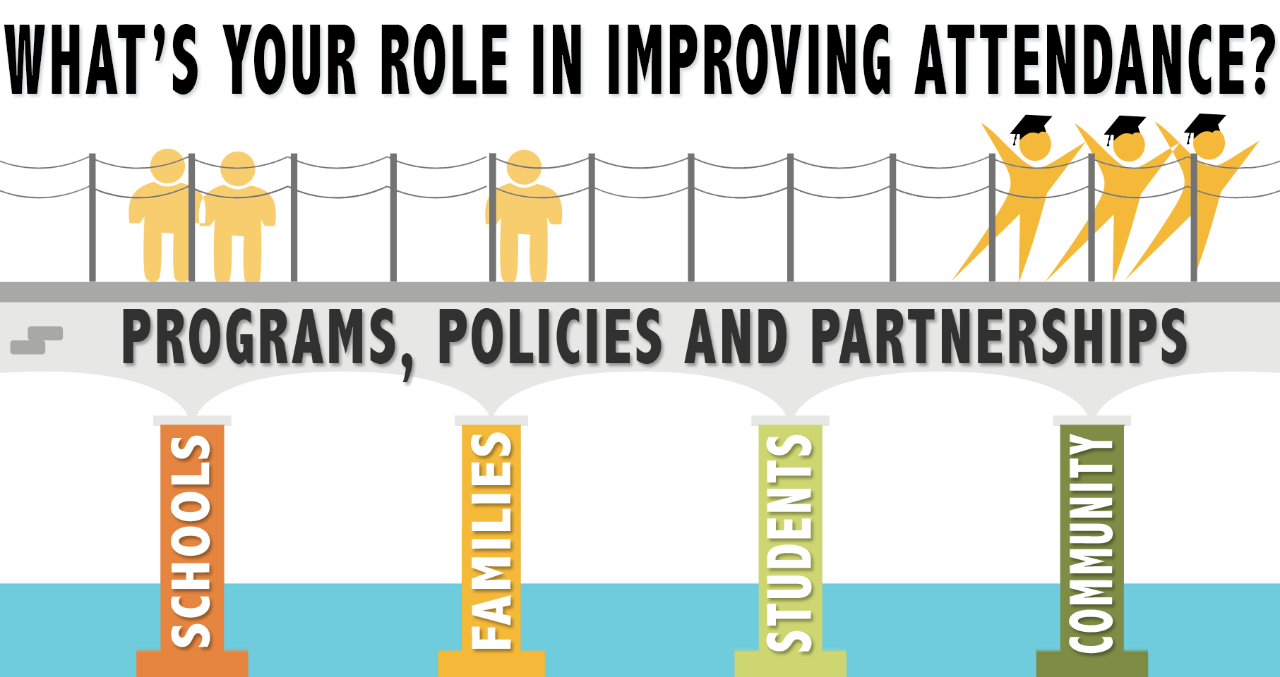 Additional Information
Live Well Schools' 2019 Partnerships for Healthy Schools report cumulates the recent data and trends to start the discussion about how a strong wellness policy and effective budgeting investments in student physical and mental health and wellness can lead to better attendance.
To learn more about your district-specific data and trends please email Pam Smith for your school district's individual Healthy Schools report.