Live Well San Diego
Home
Menu
CLOSE
Header Search Box - Custom Content
Creating a Culture of Wellness
District-adopted Local School Wellness Policies can improve student health if they are of high quality and have the support of district leadership. A comprehensive wellness policy supports a culture of wellness by addressing aspects of the broader school environment beyond minimum requirements for nutrition and physical activity.
Building a Model Wellness Policy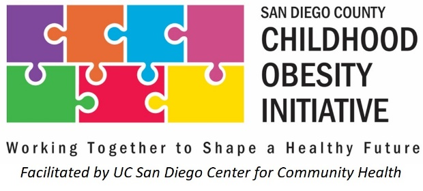 Partners of the San Diego Childhood Obesity Initiative (COI) can provide to help districts to strengthen their wellness policies, including offering policy language examples from the COI Policy Clearinghouse.
The COI's Policy Clearinghouse includes the following.
Wellness policies from all school districts in San Diego County
Examples of policy language on 23 topics
Live Well Schools Model Wellness Policy
Resources
Best Practices for Effective Policy Implementation
Effective implementation of a district's wellness policy depends on a commitment to communicate and engage the entire school community in supporting healthy school environments.
Designate a district wellness coordinator who reports to a higher-level district administrator, such as the Director of Student Support Services or an Assistant Superintendent. The wellness coordinator should be a full-time dedicated staff position, if possible.
Form a diverse wellness committee that includes district, school, and community stakeholders, including representatives from school-based preschool and afterschool programs.
The wellness committee should meet frequently throughout the school year, and report annually to the school board on progress in meeting wellness policy goals.
Designate a representative from each school site to act as a site wellness coordinator.
Promote parent involvement with the wellness committee, on district and school websites and social media.
Invest in wellness in the district budget, called the Local Control Accountability Plan (LCAP).
Continued collaboration between districts and community partners has resulted in overall improvements in wellness policy language and implementation, leading to healthier school environments supporting student success.
In 2015, Live Well Schools measured this improvement by completing a baseline analysis of wellness policies of districts in San Diego County using the WellSAT, a tool developed by the Rudd Center for Food Policy and Obesity.
Districts were able to use the WellSAT report as a tool to guide to strengthen their policies as they revised them to meet new requirements in the Healthy, Hunger-Free Kids Act.
In 2019, Live Well Schools analyzed the revised policies and provided data to districts showing changes in strength and comprehensiveness of the new policies.
Live Well Schools Policy Research
| Score | District (2006) | District (2018) | Region (2015) | Region (2019) | County (2015) | County (2019) |
| --- | --- | --- | --- | --- | --- | --- |
| Overall Comprehensiveness | 16 | 76 | 46 | 67 | 52 | 72 |
| Overall Language Strength | 08 | 45 | 28 | 40 | 30 | 43 |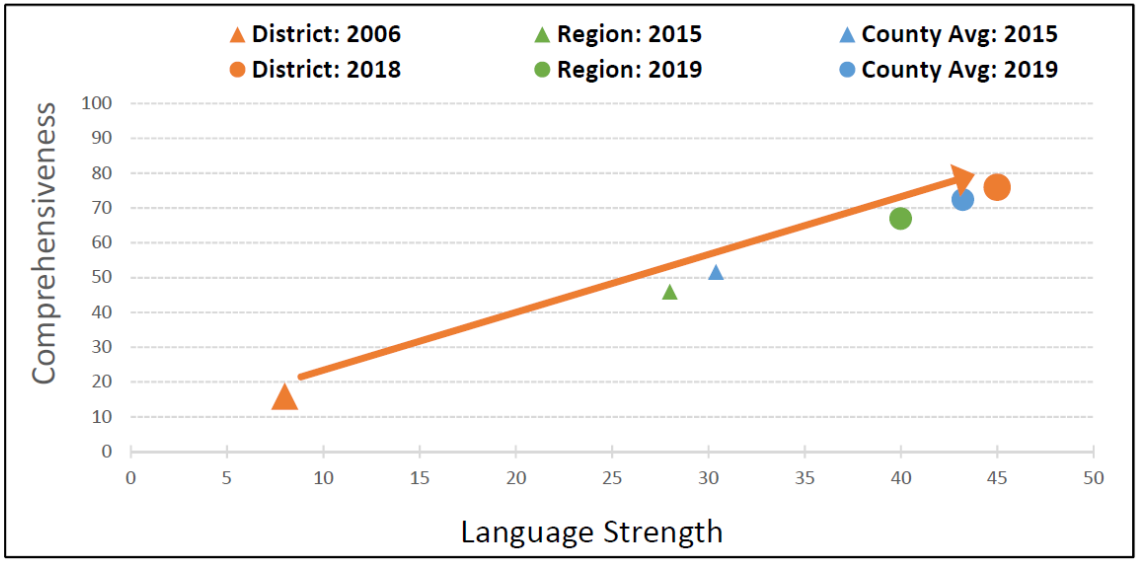 As an example of the type of data provided to an individual district, the chart above shows improvements in WellSAT scores in the wellness policy for the following.
Individual district (orange)
All the districts in that County region (green)
All the districts in San Diego County (blue)
For the individual district, the comprehensiveness score changed from 8 points to 45 points (out of a possible 100 points) and the strength changed from 16 points to 76 points, a significant improvement in the district's wellness policy.
Live Well Schools' 2019 Partnerships for Healthy Schools report cumulates the recent data and trends to start the discussion about how a strong wellness policy and effective budgeting investments in student physical and mental health and wellness can lead to better attendance.
To learn more about your district-specific data and trends please email Pam Smith for your school district's individual Healthy Schools report.
Policy Accountability
Many San Diego superintendents have stressed that systems for monitoring policy adherence are a key component of a strong wellness program. A strong and comprehensive policy sitting on a shelf will have little impact on student health; it must be communicated and implemented in each school.
The Healthy, Hunger-Free Kids Act requires districts to develop systems for measuring progress in meeting the goals of the wellness policy and perform a triennial assessment. HHSA staff and other partners that participate on district wellness committees can help support district staff to meet this requirement.
No-cost online tools to measure progress in meeting the goals of Local School Wellness Policies