Live Well San Diego
Home
Menu
CLOSE
Header Search Box - Custom Content
Resident Leadership Academies
Resident Leadership Academies (RLAs) are multi-week training programs for San Diego County residents who want to learn how to improve their local communities. Training sessions focus on topics such as community leadership, crime prevention and safety, land use and active transportation, and healthy food systems. Residents learn skills and best practices to address the issues that most affect their communities, and they work alongside their neighbors to help improve quality of life where they live. Upon graduation, attendees have new knowledge and access to a support network to help them lead community improvement projects.
RLA Updates and Opportunities
Many individuals and organizations are involved in Resident Leadership Academies across the County. The latest updates can be found on social media.
RLA Curriculum
Those who would like to facilitate a RLA can find the Facilitator/Train the Trainer and Participant materials below. The RLA Curriculum consists of a Participant Manual, modifiable PowerPoints, and various templates and handouts. The curriculum covers subjects such as Community Building Principles, Social Determinants of Health, Land Use and Community Planning, and more.
The County of San Diego currently has two approved RLA curriculums available. For groups funded for a particular RLA session or project, the version of the curriculum to be used will be determined by your funder (see links below). For all other groups, either version, or elements from both, may be used for the trainings.
1st Edition Curriculum
1st edition curriculum covers resident-driven community improvement efforts, including community building principles, neighborhood assessment activities and strategies for stakeholder engagement.
2nd Edition Curriculum
2nd edition curriculum expands on the 1st edition to include embedded activities, reflection questions and content on smoke-free environments and climate change.
RLA Resources & Opportunities
Bi-Monthly RLA Council Meetings
Meetings to provide additional training, discuss RLA updates, and to engage with other RLA practitioners. Anyone in the RLA network (graduates/residents, facilitators, CBOs and agencies supporting RLA) is welcome and encouraged to attend.
Technical Assistance (TA) for RLA Practitioners
TA is provided by the County to any RLA Practitioner involved with RLAs. TA may consist of assistance with planning of future RLAs, and development, refining, and implementation of Community Improvement Projects (CIPs), for example. For groups funded for a particular RLA session or project, the TA provider will be determined by your funder.
RLA Network Supplemental Training Workshops for Current RLA Practitioners
Supplemental trainings are available to anyone in the RLA network (graduates/residents, facilitators). These trainings focus on expanding leadership skills and offering opportunities for current RLA practitioners to engage with one another. The supplemental trainings may cover, but are not limited to, such topics as: Presentation Skills, Meeting Facilitation, and/or Applying for Resources.
New Facilitator Training/Train the Trainer Seminars
Seminar participants attend 3-4 full days of training, which consist of a detailed review of the curriculum, facilitation practice and tips for RLA planning and coordination. One or more new facilitator trainings per year will be offered through 2019.
Contact us for additional information on any of the resources listed above, or to learn about RLAs happening in your community.
RLA Success Stories
The IMPACT of Physical Education: Improving Fitness at 60 Schools in San Diego Unified School District
New program gets students moving, improves BMI numbers
Post Date:
08/22/2023 4:31 PM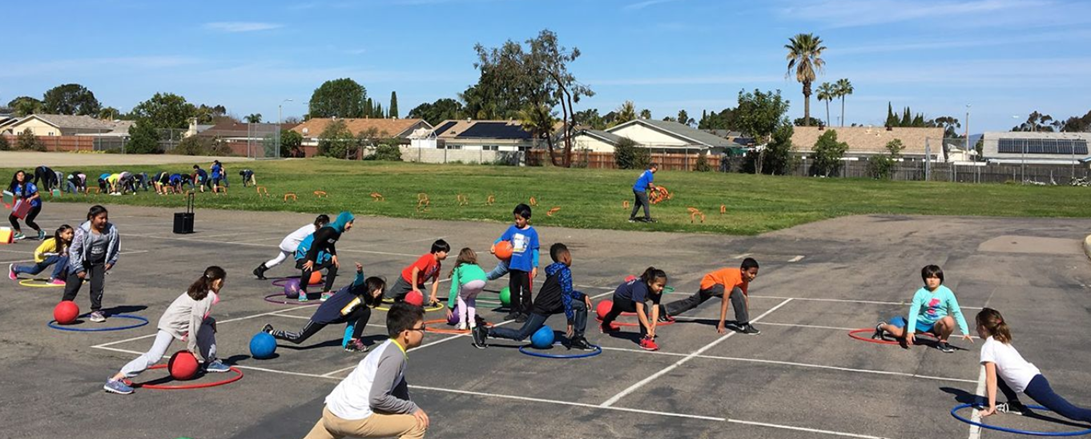 A group of eight physical education leaders were enlisted to provided technical assistance and support to other physical educators and classroom teachers to implement the IMPACT curriculum. IMPACT was designed to keep students moving throughout the school day and improve teachers' delivery of a standards-based physical education curriculum. IMPACT is a 20-minute, station-based program that increases daily moderate-to-vigorous physical activity. Activities can be taught by a physical education teacher but are also easily implemented by classroom teachers.
Bringing the IMPACT program to San Diego Unified schools was critical as only about 25 percent of children get the recommended 60 minutes of moderate-to-vigorous physical activity daily, and 25 percent of American youth ages 10 to 17 are overweight or obese. In the San Diego district, an average of 35 percent of fifth-, seventh-, and ninth-graders were considered overweight or obese based on the body mass index component of the California Physical Fitness Test (PFT) in 2019. In that same year, nearly 30 percent of ninth-graders failed five out of six components of the fitness test, which is a requirement for a student to receive a two-year exemption from physical education in grades 10 to 12.
Adding to this, the beginning of the 2021-2022 school year was among the most challenging in the recent history of education. More than half the students in the district returned to an in-person format after an extended absence from school due to the COVID-19 pandemic. With students returning to in-person instruction, schools needed to socially integrate students back into classrooms and provide quality, daily physical education that met the California education code requirements.
The IMPACT program provided organizational structure to ensure schools were meeting the recommended physical education components. Since 2020, and with the support of the CalFresh Healthy Living program, the San Diego Unified School District increased from 24 to more than 60 schools implementing IMPACT and the number of students benefiting from IMPACT has increased from 12,000 to nearly 30,000.
IMPACT equipment, curriculum, training, and support were provided to create a sustainable program to improve student health and fitness. As a result, district physical education leaders have increased their ability to deliver technical assistance and built the capacity of school site staff to deliver quality, standards-based physical education instruction.
Return to full list >>