Live Well San Diego
Home
Menu
CLOSE
Header Search Box - Custom Content
Resident Leadership Academies
Resident Leadership Academies (RLAs) are multi-week training programs for San Diego County residents who want to learn how to improve their local communities. Training sessions focus on topics such as community leadership, crime prevention and safety, land use and active transportation, and healthy food systems. Residents learn skills and best practices to address the issues that most affect their communities, and they work alongside their neighbors to help improve quality of life where they live. Upon graduation, attendees have new knowledge and access to a support network to help them lead community improvement projects.
RLA Updates and Opportunities
Many individuals and organizations are involved in Resident Leadership Academies across the County. The latest updates can be found on social media.
RLA Curriculum
Those who would like to facilitate a RLA can find the Facilitator/Train the Trainer and Participant materials below. The RLA Curriculum consists of a Participant Manual, modifiable PowerPoints, and various templates and handouts. The curriculum covers subjects such as Community Building Principles, Social Determinants of Health, Land Use and Community Planning, and more.
The County of San Diego currently has two approved RLA curriculums available. For groups funded for a particular RLA session or project, the version of the curriculum to be used will be determined by your funder (see links below). For all other groups, either version, or elements from both, may be used for the trainings.
1st Edition Curriculum
1st edition curriculum covers resident-driven community improvement efforts, including community building principles, neighborhood assessment activities and strategies for stakeholder engagement.
2nd Edition Curriculum
2nd edition curriculum expands on the 1st edition to include embedded activities, reflection questions and content on smoke-free environments and climate change.
RLA Resources & Opportunities
Bi-Monthly RLA Council Meetings
Meetings to provide additional training, discuss RLA updates, and to engage with other RLA practitioners. Anyone in the RLA network (graduates/residents, facilitators, CBOs and agencies supporting RLA) is welcome and encouraged to attend.
Technical Assistance (TA) for RLA Practitioners
TA is provided by the County to any RLA Practitioner involved with RLAs. TA may consist of assistance with planning of future RLAs, and development, refining, and implementation of Community Improvement Projects (CIPs), for example. For groups funded for a particular RLA session or project, the TA provider will be determined by your funder.
RLA Network Supplemental Training Workshops for Current RLA Practitioners
Supplemental trainings are available to anyone in the RLA network (graduates/residents, facilitators). These trainings focus on expanding leadership skills and offering opportunities for current RLA practitioners to engage with one another. The supplemental trainings may cover, but are not limited to, such topics as: Presentation Skills, Meeting Facilitation, and/or Applying for Resources.
New Facilitator Training/Train the Trainer Seminars
Seminar participants attend 3-4 full days of training, which consist of a detailed review of the curriculum, facilitation practice and tips for RLA planning and coordination. One or more new facilitator trainings per year will be offered through 2019.
Contact us for additional information on any of the resources listed above, or to learn about RLAs happening in your community.
RLA Success Stories
'Fostering Academic Success in Education' Program Helps Foster Youths Realize Dreams
Post Date:
09/05/2023 5:04 PM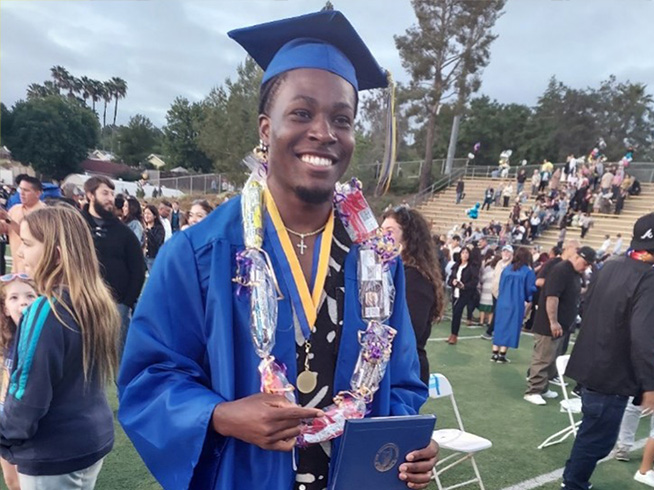 Elisabeth Handley, Public Outreach Specialist, County of San Diego Child and Family Well-Being

Fostering Academic Success in Education began in 2020 as a three-year pilot program that aimed to support students in foster care to achieve educational success in high school, postsecondary education and beyond. It is designed to promote a proactive engagement of partnering agencies, schools and community organizations to support youth and their families in their communities.
Fostering Academic Success in Education has built a strong collaborative infrastructure and well-coordinated services among community partners such as the San Diego Office of Education, Sweetwater Union High School District, Escondido Union High School District, Escondido Unified and Union School Districts, and Promises2Kids.
"The program cares about me and my future and will help me achieve my dream of becoming an engineer."
-Program member
In June 2020, the Fostering Academic Success in Education program began in two schools with 20 students. As of June 2023, it has expanded to 17 schools and is now serving over 50 students. This fall, it will be in 23 schools serving more than 70 youth. It is no longer a pilot program, but one with no end date.
Foster youth endure multiple adverse childhood experiences that can create obstacles to educational achievement. Compared to youth without foster care experiences in California, foster youth are grossly underperforming academically. Research indicates that youth in foster care are more likely than their non-foster care peers to repeat a grade, perform lower on standardized tests, or drop out of school. Many foster youth change schools far too often as they change foster care placements, and school changes hinder academic achievement.
Pilot research data indicates that youth in the Fostering Academic Success in Education program experience fewer placement changes, which supports academic success. The program also assists youth with filling out the Free Application for Federal Student Aid (FAFSA) for financial aid, and applying for college or preparing for a career path.
The Fostering Academic Success in Education program has undergone an evaluation with collected data such as GPA, attendance, self-efficacy measures, and youths' perception of their ability to manage mental health services and supports over time. In the 2022-2023 school year, 86% of students had a significant increase in their GPA. Youths in the program also had fewer unexcused absences from semester one to semester two. The program also had a 100% graduation rate in the school year of 2022-2023. As one service provider shared:
"Having a person oversee students' education, meet with them on a weekly basis and build rapport, motivates students to improve their grades and focus on their educational goals."
-Fostering Academic Success in Education school site administration
Fostering Academic Success in Education is excited to continue collaborating with community partners, the resource parent community, and youth with foster care experiences to provide a solid support network with resources for youths to obtain the highest level of academic success. Through the program, dedicated stakeholders and community partners have made it possible for our foster youth to thrive and achieve their academic goals and dreams. The program is changing student outcomes and perspectives through their adverse challenges one day at a time.
"I love my social worker and want to succeed and go to a four-year university," said one student. "Before, I didn't think I could. Now I know there is a lot of help for students like me."
Return to full list >>