Live Well San Diego
Home
Menu
CLOSE
Header Search Box - Custom Content
Resident Leadership Academies
Resident Leadership Academies (RLAs) are multi-week training programs for San Diego County residents who want to learn how to improve their local communities. Training sessions focus on topics such as community leadership, crime prevention and safety, land use and active transportation, and healthy food systems. Residents learn skills and best practices to address the issues that most affect their communities, and they work alongside their neighbors to help improve quality of life where they live. Upon graduation, attendees have new knowledge and access to a support network to help them lead community improvement projects.
RLA Updates and Opportunities
Many individuals and organizations are involved in Resident Leadership Academies across the County. The latest updates can be found on social media.
RLA Curriculum
Those who would like to facilitate a RLA can find the Facilitator/Train the Trainer and Participant materials below. The RLA Curriculum consists of a Participant Manual, modifiable PowerPoints, and various templates and handouts. The curriculum covers subjects such as Community Building Principles, Social Determinants of Health, Land Use and Community Planning, and more.
The County of San Diego currently has two approved RLA curriculums available. For groups funded for a particular RLA session or project, the version of the curriculum to be used will be determined by your funder (see links below). For all other groups, either version, or elements from both, may be used for the trainings.
1st Edition Curriculum
1st edition curriculum covers resident-driven community improvement efforts, including community building principles, neighborhood assessment activities and strategies for stakeholder engagement.
2nd Edition Curriculum
2nd edition curriculum expands on the 1st edition to include embedded activities, reflection questions and content on smoke-free environments and climate change.
RLA Resources & Opportunities
Bi-Monthly RLA Council Meetings
Meetings to provide additional training, discuss RLA updates, and to engage with other RLA practitioners. Anyone in the RLA network (graduates/residents, facilitators, CBOs and agencies supporting RLA) is welcome and encouraged to attend.
Technical Assistance (TA) for RLA Practitioners
TA is provided by the County to any RLA Practitioner involved with RLAs. TA may consist of assistance with planning of future RLAs, and development, refining, and implementation of Community Improvement Projects (CIPs), for example. For groups funded for a particular RLA session or project, the TA provider will be determined by your funder.
RLA Network Supplemental Training Workshops for Current RLA Practitioners
Supplemental trainings are available to anyone in the RLA network (graduates/residents, facilitators). These trainings focus on expanding leadership skills and offering opportunities for current RLA practitioners to engage with one another. The supplemental trainings may cover, but are not limited to, such topics as: Presentation Skills, Meeting Facilitation, and/or Applying for Resources.
New Facilitator Training/Train the Trainer Seminars
Seminar participants attend 3-4 full days of training, which consist of a detailed review of the curriculum, facilitation practice and tips for RLA planning and coordination. One or more new facilitator trainings per year will be offered through 2019.
Contact us for additional information on any of the resources listed above, or to learn about RLAs happening in your community.
RLA Success Stories
Walking Towards a Sustainable Future: The Intersection of Walkable Communities and Farmers' Markets
Take a tasty trip to your community farmers' market.
Post Date:
06/28/2023 8:00 AM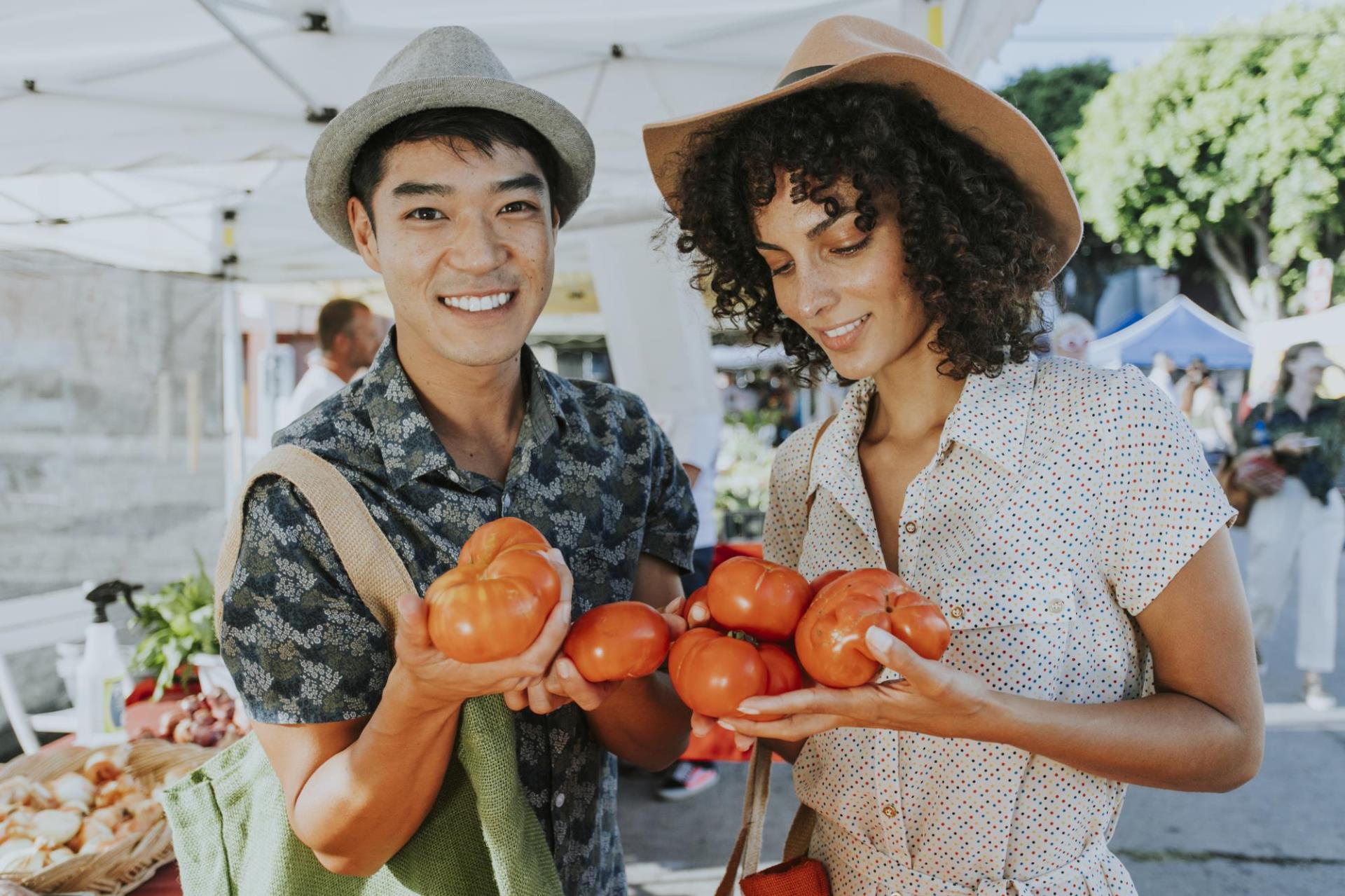 Author: Live Well San Diego Data Team
Summer is here, and now is a great time to walk around a farmers' market and enjoy fresh and local produce throughout San Diego County. Continue reading this post to learn more about the benefits of visiting a farmers' market near you and how it can improve your health, community, local economy, and environment.
Fresh, Local, and Steps Away: Bringing Freshness and Flavor Right to Your Neighborhood
Walkable communities offer many benefits, from improved health and well-being to environmental sustainability, social connections, and economic vitality. One way to be involved in your built environment is through visiting your local farmers' market. Farmers' markets offer residents a convenient way to access locally grown fruits, vegetables, and other agricultural products, which promotes healthier eating habits. This helps reduce reliance on processed foods while supporting local vendors. It is also a great way to spend more time outdoors with friends and family.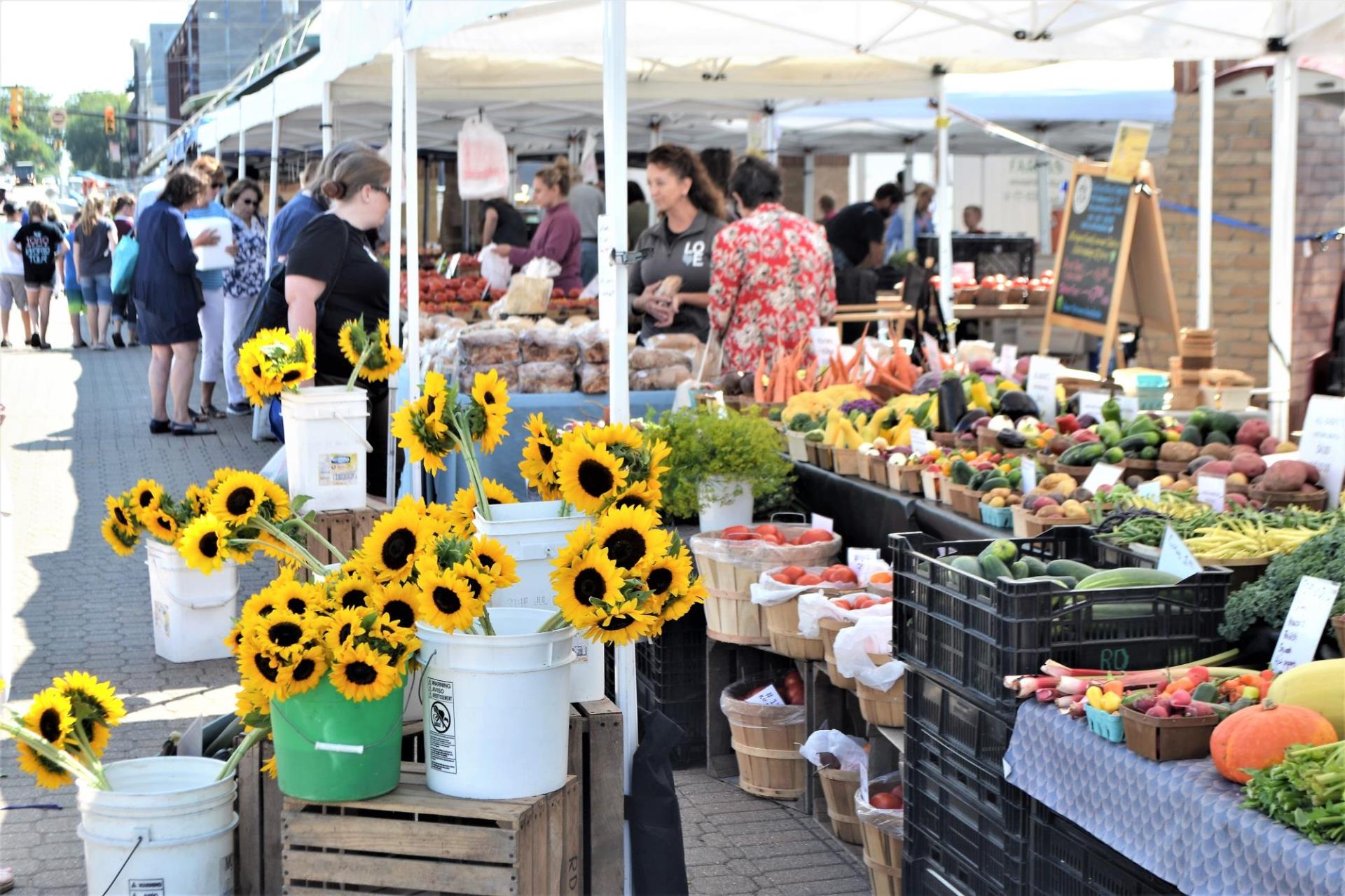 Farmers' Markets: Cultivating Walkable Communities and Vibrant Streets
If you have attended a farmers' market, you have likely seen temporarily closed streets and repurposed outdoor spaces. Farmers' markets are often located in central areas of communities, making them easily accessible by foot and encouraging residents to choose walking as a mode of transportation. The presence of people, colorful displays, and enticing aromas make the street more attractive and enjoyable for walking. The social element of farmers' markets also encourages pedestrians to spend more time on the street, strolling, talking, and connecting with others. Farmers' markets create vibrant and engaging public spaces within communities in various ways.
Farmers' markets contribute to decreased carbon emissions and a smaller ecological footprint by reducing the need for long-distance transportation. Integrating them into mixed-use developments (combining residential, commercial, institutional, and/or industrial developments in an area) encourages a compact and diverse urban fabric, allowing residents to access fresh produce and other amenities within a short walk. These markets also transform public spaces into inclusive and people-centered environments that foster community and promote social interaction.

Individuals and families continue to struggle to afford enough healthy food. A food assistance program, Supplemental Nutrition Assistance Program (SNAP), allows recipients to use their benefits electronically through Electronic Benefits Transfer (EBT) cards. It functions like a debit card, providing a convenient and secure way for individuals and families to purchase food items at authorized retailers, including farmers' markets. Farmers' markets can play a vital role in ensuring food security by providing access to nutritious food in areas where traditional grocery stores may be limited. Several farmers' markets in San Diego accept EBT cards to promote healthy eating options for low-income households while supporting local agriculture. To view a list of farmers' markets in San Diego County that accept EBT cards, click here.

San Diego County has 36 Certified Farmers' Markets, 21 farm stands, 17 Community Supported Agriculture programs, and one dockside fishermen's market. Some of the most widely grown organic foods in San Diego are avocados, citrus, and tomatoes.
5 Benefits of Walkable Communities
Health:

Walkable communities promote physical activity and good health. Walking 30 minutes per day can reduce the risk of obesity, cancer, heart disease, high blood pressure, and diabetes, and improve your mood and mental performance.

Economic:

Walkable neighborhoods financially benefit the people who live and work there. People can walk to buy groceries and other errands close to their home which supports local businesses and saves money that might otherwise go towards gas.

Community Strength:

Walking in your neighborhood builds a sense of community and allows you to interact with neighbors, forming connections and social support.

Crime Prevention and Safety:

Walking puts more 'eyes on the street' and helps prevent crime because there are more people around looking out for one another.

Environment:

As people walk more, there are fewer cars on the roads which leads to less traffic congestion, less air and noise pollution, and reduced water pollution.
To find a farmers' market near you, visit this link at the San Diego County Farm Bureau website.
Transforming Lives, One Stop at a Time with Live Well on Wheels (Live WoW)
To improve access to services throughout the region, San Diego County operates the
Live Well on Wheels (WoW)
buses that can travel and visit any area within the community and are fully equipped to offer several
resources and services
. One of the essential services the buses provides is the ability for those eligible to receive immediate SNAP approval and have a card printed on the spot. If you are interested in requesting the Live WoW bus for your next event or would like to attend the next event, please click on the link
here
for more information.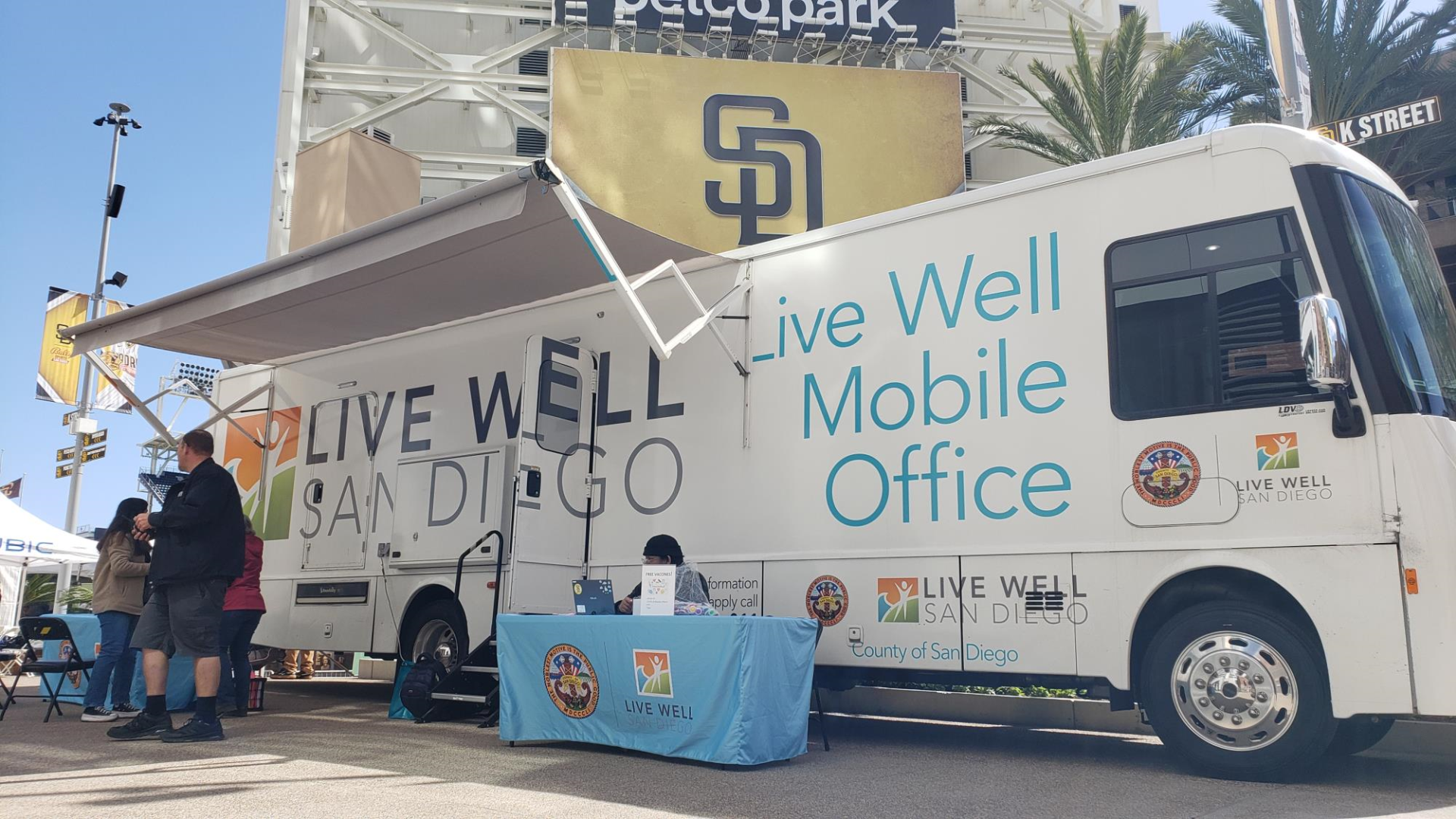 Project New Village Cultivates Access to Nutritious Food for All
Project New Village, another Live Well San Diego Recognized Partner, envisions Southeastern San Diego as a community of active neighborhoods supporting and contributing to community members' health, wealth, and well-being. The goal is to improve fresh food access to build social equity, leading to healthy neighborhoods.
Project New Village implemented a Mobile Farmers' Market (MFM) program focused on visiting communities to increase access to the freshest and healthy produce available. Its purpose is to change the food system by making fresh produce available to customers while ensuring that local growers are paid fairly.

Click here to find the MFM at an event near you.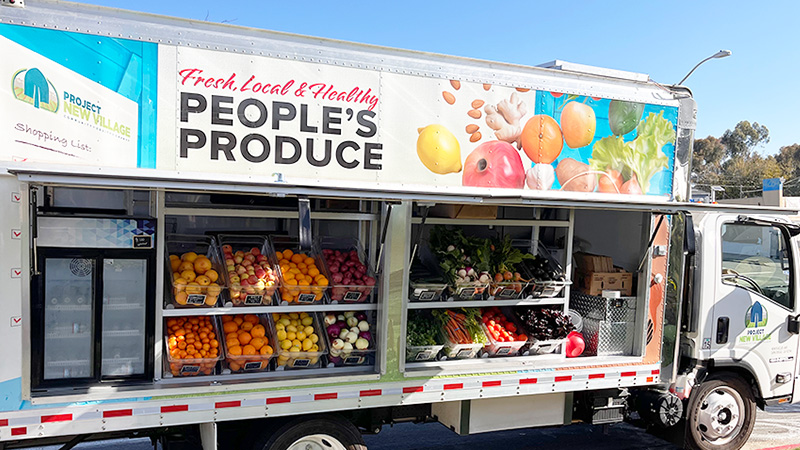 Indicator Series: Built Environment
The Top 10 Live Well San Diego Indicators define what it means to live well in San Diego. Measured across the lifespan among all residents, the indicators capture the collective impact of programs, services, and interventions provided by government and community partners striving to improve quality of life so that all San Diego County residents can be healthy, safe, and thriving. The Built Environment Indicator measures the percent of the population living within a quarter mile of a park or community space. Efforts by the community and Live Well San Diego partners have been moving this indicator in the right direction by implementing programs and events to improve health behavior changes.

Getting San Diego Data is Easy!

To access the San Diego Hunger Coalition Data Release, visit the Issue Briefs — San Diego Hunger Coalition website.

Additionally, you can find more data at our County of San Diego Data Portal website.
Our open data program encourages the use of public data that the County of San Diego has published to spark innovation, promote public collaboration, increase government transparency, and inform decision-making.

I'd Like to Know More

The Live Well San Diego Team specialists who publish data news stories are dedicated public health professionals. For more news stories, please refer to our department website.
Return to full list >>