Live Well San Diego
Home
Menu
CLOSE
Header Search Box - Custom Content
Resident Leadership Academies
Resident Leadership Academies (RLAs) are multi-week training programs for San Diego County residents who want to learn how to improve their local communities. Training sessions focus on topics such as community leadership, crime prevention and safety, land use and active transportation, and healthy food systems. Residents learn skills and best practices to address the issues that most affect their communities, and they work alongside their neighbors to help improve quality of life where they live. Upon graduation, attendees have new knowledge and access to a support network to help them lead community improvement projects.
RLA Updates and Opportunities
Many individuals and organizations are involved in Resident Leadership Academies across the County. The latest updates can be found on social media.
RLA Curriculum
Those who would like to facilitate a RLA can find the Facilitator/Train the Trainer and Participant materials below. The RLA Curriculum consists of a Participant Manual, modifiable PowerPoints, and various templates and handouts. The curriculum covers subjects such as Community Building Principles, Social Determinants of Health, Land Use and Community Planning, and more.
The County of San Diego currently has two approved RLA curriculums available. For groups funded for a particular RLA session or project, the version of the curriculum to be used will be determined by your funder (see links below). For all other groups, either version, or elements from both, may be used for the trainings.
1st Edition Curriculum
1st edition curriculum covers resident-driven community improvement efforts, including community building principles, neighborhood assessment activities and strategies for stakeholder engagement.
2nd Edition Curriculum
2nd edition curriculum expands on the 1st edition to include embedded activities, reflection questions and content on smoke-free environments and climate change.
RLA Resources & Opportunities
Bi-Monthly RLA Council Meetings
Meetings to provide additional training, discuss RLA updates, and to engage with other RLA practitioners. Anyone in the RLA network (graduates/residents, facilitators, CBOs and agencies supporting RLA) is welcome and encouraged to attend.
Technical Assistance (TA) for RLA Practitioners
TA is provided by the County to any RLA Practitioner involved with RLAs. TA may consist of assistance with planning of future RLAs, and development, refining, and implementation of Community Improvement Projects (CIPs), for example. For groups funded for a particular RLA session or project, the TA provider will be determined by your funder.
RLA Network Supplemental Training Workshops for Current RLA Practitioners
Supplemental trainings are available to anyone in the RLA network (graduates/residents, facilitators). These trainings focus on expanding leadership skills and offering opportunities for current RLA practitioners to engage with one another. The supplemental trainings may cover, but are not limited to, such topics as: Presentation Skills, Meeting Facilitation, and/or Applying for Resources.
New Facilitator Training/Train the Trainer Seminars
Seminar participants attend 3-4 full days of training, which consist of a detailed review of the curriculum, facilitation practice and tips for RLA planning and coordination. One or more new facilitator trainings per year will be offered through 2019.
Contact us for additional information on any of the resources listed above, or to learn about RLAs happening in your community.
RLA Success Stories
Passenger Cars and Light Duty Vehicles are the Highest Emission Source in San Diego County
Using active transportation can help reduce greenhouse gas emissions.
Post Date:
04/24/2023 1:15 PM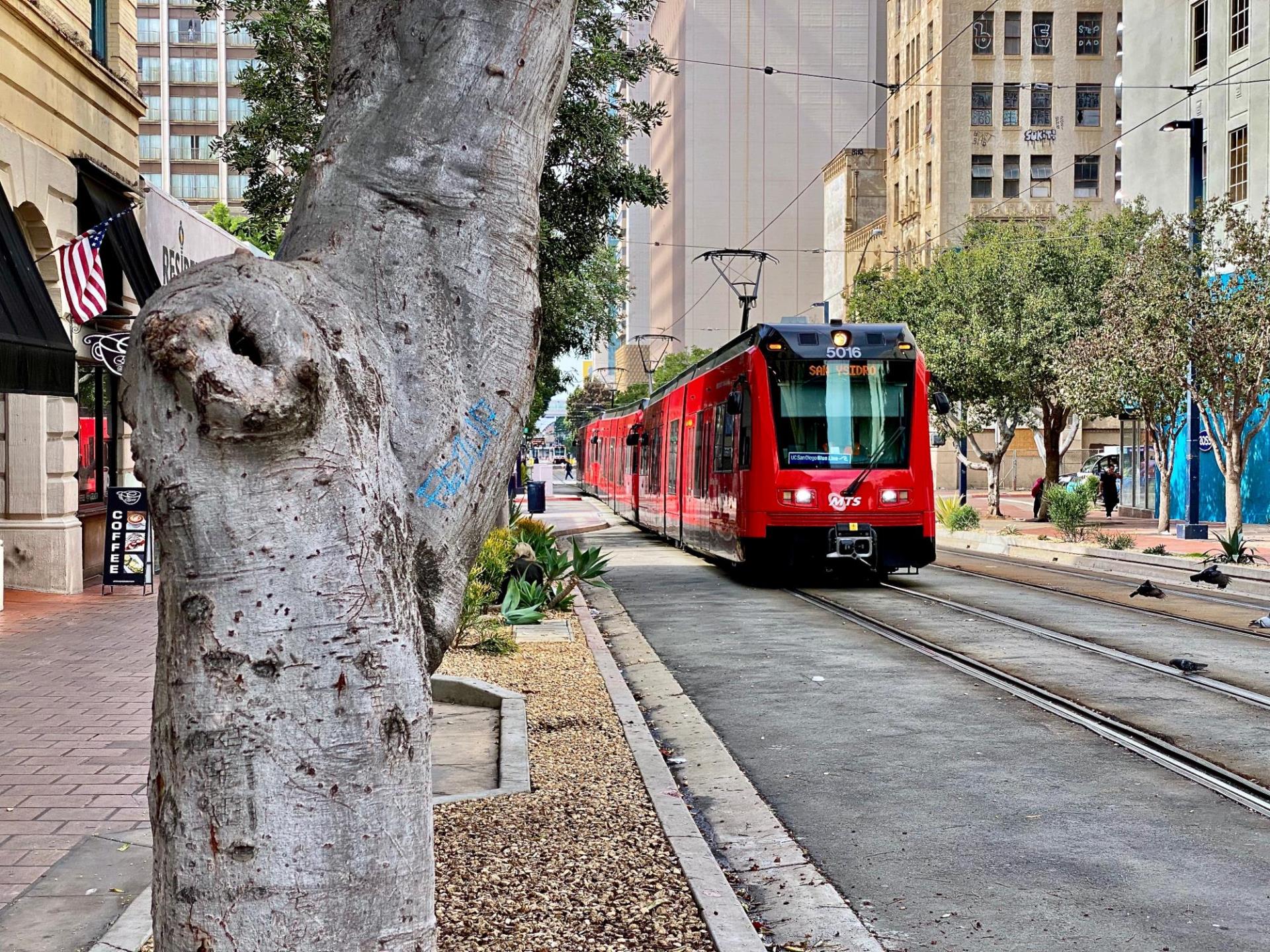 Author: Live Well San Diego Data Team
79% of all greenhouse gas emissions in the U.S. are produced by human activities. The main sources are transportation, electricity, and industry. The United States Environmental Protection Agency reported that 27% of greenhouse gas emissions in 2020 came from transportation.
Adverse Health Effects
Air pollution has negative side effects on respiratory and cardiovascular conditions. Children, pregnant women, older adults, individuals with disabilities, and people with medical conditions are the most vulnerable. For example, individuals with asthma or chronic obstructive pulmonary disease may be more sensitive to air pollution.
San Diego County
In 2018, the County of San Diego Board of Supervisors adopted the 2018 Climate Action Plan to outline methods to reduce greenhouse gas emissions. The County of San Diego is committed to implementing the plan by engaging in ongoing collaborations with private and public sector partners and the community.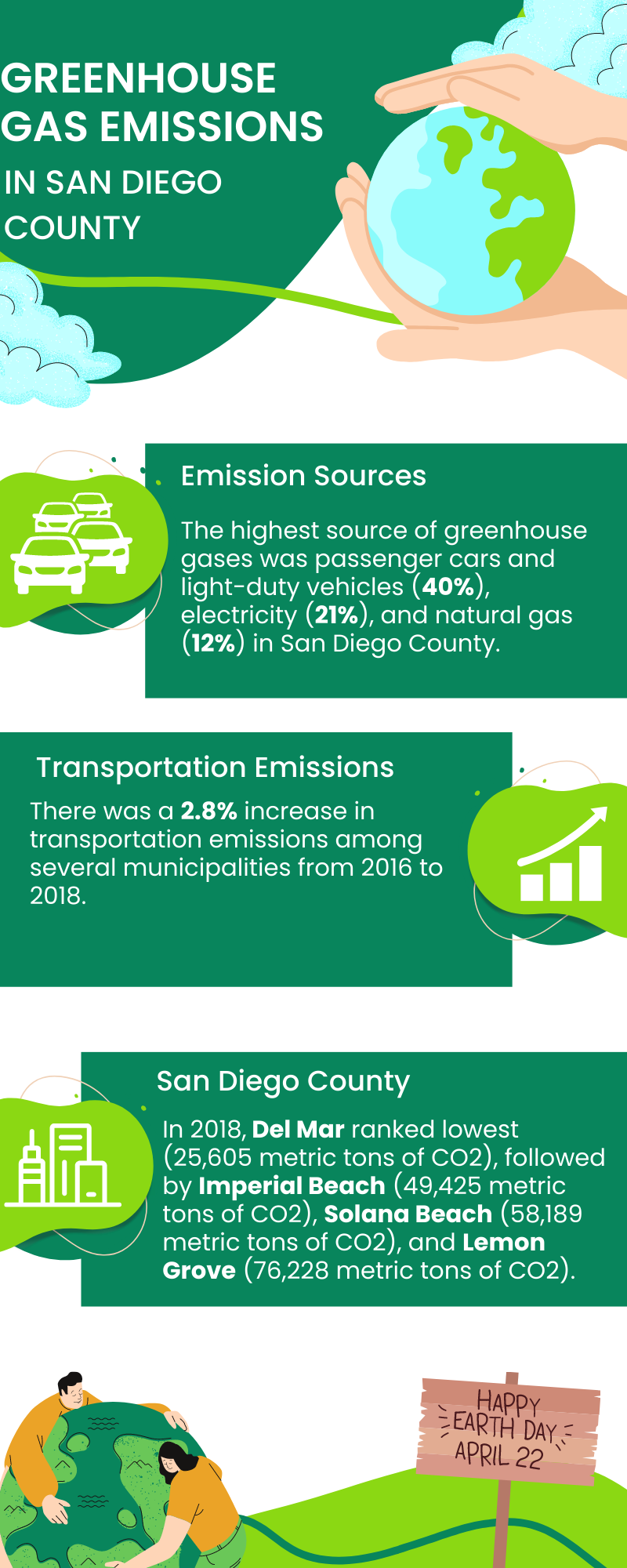 Community Based Interventions
There are several ways we can reduce the amount of these greenhouse gas emissions on our environment. For example, using public transit as a form of active transportation can decrease vehicle usage, reduce greenhouse gases and air pollution, and help people engage in physical activity.

The San Diego Metropolitan Transit System (MTS) provides the community with all-electric trolleys and near-zero emission buses that reduce the negative environmental impacts. A pilot program, the Youth Opportunity Pass, sponsored by Live Well San Diego Recognized Partner SANDAG and the County of San Diego was implemented to provide youth with free MTS and North County Transit District (NCTD) rides. Anyone under 18 years old may ride MTS and NCTD services for free using the PRONTO app or card.

University of California San Diego students may qualify for a free Triton U-Pass membership for unlimited access to MTS and NCTD bus and trolley routes during the academic quarters. Other colleges and universities may qualify for free or reduced fare. Please review policies on the MTS website for free or reduced fares and connect with your student services for more information.

Among the Live Well San Diego Recognized Partners collaborating for a positive impact on the environment via active transportation are Circulate San Diego and the San Diego Bike Coalition. Circulate San Diego focuses on improving pedestrian and bicycle safety. They encourage residents to be physically active by advocating for affordable and convenient public transportation. They prioritize having a transportation network that promotes active transportation and reduces GHG emissions, limits pollution and protects the undeveloped habitat.

The San Diego Bike Coalition educate residents on how to safely use public roadways and advocates for the installation of complete streets. Their mission is to advocate and protect the rights of everyone who rides bicycles. Some of the work they do involves conducting educational programs, promoting awareness of bicyclists and bicycling issues, review infrastructure improvements, acts as a voice for bicyclists, and organize community bike rides to encourage biking as a friendly form of transportation and recreation.
Indicator Series: Physical Environment
The Top 10 Live Well San Diego Indicators define what it means to live well in San Diego. Measured across the lifespan among all residents, the Indicators capture the collective impact of programs, services and interventions provided by government and community partners striving to improve quality of life so that all San Diego County residents can be healthy, safe and thriving. The Physical Environment Indicator measures the number of days in the month that air quality is rated poorly. Efforts by the community and partners to have better environments have been moving this indicator in the right direction.
Getting San Diego Data is Easy!
To access the San Diego Association of Governments (SANDAG) indicators dashboard and publicly available data, visit the SANDAG website. Additionally, you can find more data at our County of San Diego Data Portal website.

This open data portal encourages the use of public data that the County of San Diego has published to spark innovation, promote public collaboration, increase government transparency, and inform decision making.
I'd Like to Know More
The Live Well San Diego Team specialists who publish data news stories are dedicated public health professionals. For a detailed view on how we drafted this news story, please refer to our data research brief.
Return to full list >>