Live Well San Diego
Home
Menu
CLOSE
Header Search Box - Custom Content
Resident Leadership Academies
Resident Leadership Academies (RLAs) are multi-week training programs for San Diego County residents who want to learn how to improve their local communities. Training sessions focus on topics such as community leadership, crime prevention and safety, land use and active transportation, and healthy food systems. Residents learn skills and best practices to address the issues that most affect their communities, and they work alongside their neighbors to help improve quality of life where they live. Upon graduation, attendees have new knowledge and access to a support network to help them lead community improvement projects.
RLA Updates and Opportunities
Many individuals and organizations are involved in Resident Leadership Academies across the County. The latest updates can be found on social media.
RLA Curriculum
Those who would like to facilitate a RLA can find the Facilitator/Train the Trainer and Participant materials below. The RLA Curriculum consists of a Participant Manual, modifiable PowerPoints, and various templates and handouts. The curriculum covers subjects such as Community Building Principles, Social Determinants of Health, Land Use and Community Planning, and more.
The County of San Diego currently has two approved RLA curriculums available. For groups funded for a particular RLA session or project, the version of the curriculum to be used will be determined by your funder (see links below). For all other groups, either version, or elements from both, may be used for the trainings.
1st Edition Curriculum
1st edition curriculum covers resident-driven community improvement efforts, including community building principles, neighborhood assessment activities and strategies for stakeholder engagement.
2nd Edition Curriculum
2nd edition curriculum expands on the 1st edition to include embedded activities, reflection questions and content on smoke-free environments and climate change.
RLA Resources & Opportunities
Bi-Monthly RLA Council Meetings
Meetings to provide additional training, discuss RLA updates, and to engage with other RLA practitioners. Anyone in the RLA network (graduates/residents, facilitators, CBOs and agencies supporting RLA) is welcome and encouraged to attend.
Technical Assistance (TA) for RLA Practitioners
TA is provided by the County to any RLA Practitioner involved with RLAs. TA may consist of assistance with planning of future RLAs, and development, refining, and implementation of Community Improvement Projects (CIPs), for example. For groups funded for a particular RLA session or project, the TA provider will be determined by your funder.
RLA Network Supplemental Training Workshops for Current RLA Practitioners
Supplemental trainings are available to anyone in the RLA network (graduates/residents, facilitators). These trainings focus on expanding leadership skills and offering opportunities for current RLA practitioners to engage with one another. The supplemental trainings may cover, but are not limited to, such topics as: Presentation Skills, Meeting Facilitation, and/or Applying for Resources.
New Facilitator Training/Train the Trainer Seminars
Seminar participants attend 3-4 full days of training, which consist of a detailed review of the curriculum, facilitation practice and tips for RLA planning and coordination. One or more new facilitator trainings per year will be offered through 2019.
Contact us for additional information on any of the resources listed above, or to learn about RLAs happening in your community.
RLA Success Stories
Active Transportation Plan Aims to Get Residents Moving Safely
Post Date:
08/31/2023 4:46 PM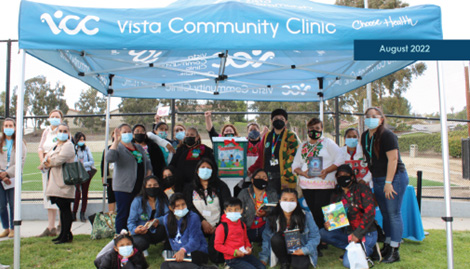 By Hugo Salgado, Community Health Program Specialist
The Healthy Cities, Healthy Residents program is funded by the County of San Diego's CalFresh Healthy Living program and was implemented through a contract with Vista Community Clinic in the cities of Oceanside, Escondido and Vista.
Vista Community Clinic staff coordinated a Healthy Cities, Health Residents coalition comprising residents, city officials, business owners, and community-based organizations in each city. The goal of each coalition was to promote relationship-building, cross-sector partnerships, and community engagement to make sustainable changes in city planning and policies that help increase physical activity among residents. Walking, biking, roller skating/roller blading, and other forms of human-powered active travel (known as "active transportation") are some ways to help increase physical activity.
On Oct. 1, 2020, Vista Community Clinic recruited Poder Popular (a community advocacy group of residents under Vista Community Clinic in Vista), business owners, city officials, and other stakeholders, to assemble the Healthy Cities, Health Residents Vista Coalition, known as the Healthy Vista Coalition. It quickly began working together with the County's CalFresh Healthy Living team and Healthy Cities, Health Residents contractor and planning agency Alta Planning and Design to identify the kind of policy that would fulfill stakeholders' needs.
Through capacity-building, community engagement and data analysis, including pedestrian/bicycle-involved collisions, the Healthy Vista Coalition decided that the best course of action would be to develop an Active Transportation Plan (ATP). ATPs are a comprehensive collection of policies, programs, recommendations, and funding mechanisms that can increase active transportation and physical activity and improve public health.
In Vista, the Townsite neighborhood houses a large, low-income Spanish-speaking, immigrant, and renter community with corridors that connect residents to public schools, grocery stores, community clinics, parks and public transportation. Townsite however, has been negatively impacted by poor infrastructure leading to challenges with active transportation (walking, biking, etc.). Vehicle collisions with pedestrians, a lack of pedestrian visibility, lack of sidewalks, poor lighting, and improper traffic signage, among other factors, have all been reported by residents, setting in motion Healthy Vista Coalition's decision to make the ATP specific to the Townsite neighborhood.
Engaging the community was a top priority throughout Townsite's ATP planning process. Members of Poder Popular, known as Líderes Comunitarios or Líderes, were a crucial part of the Healthy Vista Coalition, identifying the many challenges of walking and biking in Townsite. Engagement also included extensive coordination with partner agencies and various city departments to ensure the ATP met community needs, advanced initiatives of local and regional partners, and included projects and programs that could feasibly be implemented.
The completion of the ATP in August 2022 was the three-year culmination of all these efforts. Following completion, the Healthy Vista Coalition shifted to seek support for the Townsite ATP from the Vista City Council. After a few meetings, city staffed accepted the plan and agreed to use the document as a reference when identifying and applying for community-driven projects.
In addition to referring to the document, the city welcomes residents' feedback and participation in projects already in development as well as grant application processes.
Read about the Active Transportation Plan here.
Return to full list >>