Live Well San Diego
Home
Menu
CLOSE
Header Search Box - Custom Content
Free4ME: Supporting Menstrual Equity
The County of San Diego supports menstrual equity and is proud to provide free, organic menstrual products (tampons and pads) in County facilities.
Through the Free 4 Menstrual Equity, or Free4ME, pilot program, the County has installed 58 "free-vend" menstrual product dispensers in 24 County facilities across the region, and counting! These facilities include libraries, Family Resource Centers and Community Centers.
Find your nearest location below!
Why Menstrual Equity Matters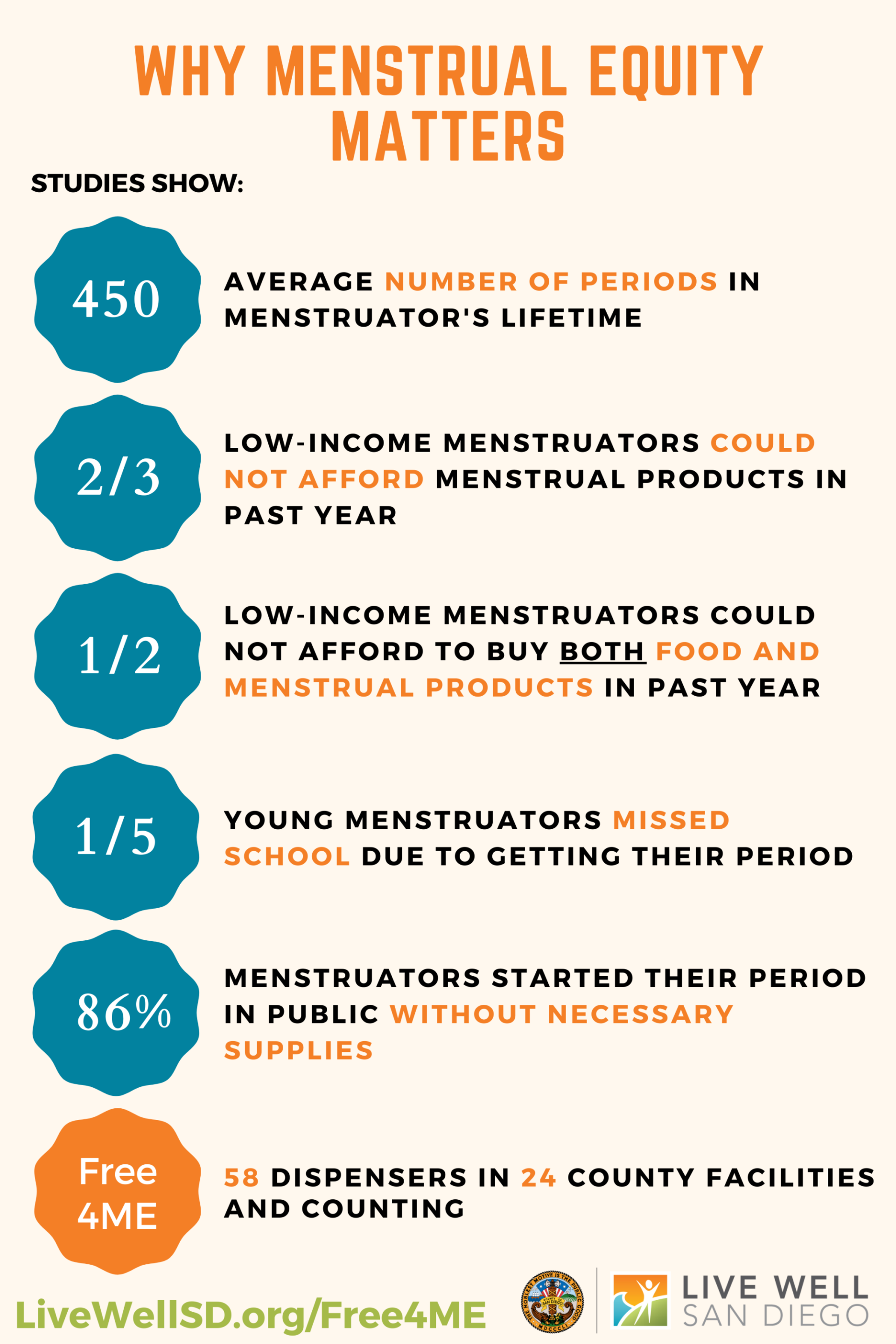 Nearly  two-thirds of low-income people with periods in the U.S. report having been unable to afford menstrual products during the previous year, and frequently must decide between purchasing food or other necessities and menstrual products (learn more). This is referred to as period poverty and disproportionately impacts people experiencing homelessness, transgender people, youth and low-income individuals.
With community partners, the County developed the Free4ME pilot program to combat period poverty and promote menstrual equity.
#SDFree4ME

Evaluation and Feedback
What does this service mean to you? Let us know what access to free menstrual products means to you, and how we can improve this service through this Free4ME Feedback Form.
Interested in our first two years? Here is our Two-Year Evaluation and Feedback!
Menstrual Equity in Schools and Colleges
California Assembly Bill 10, 2017 requires public schools maintaining any combination of classes from grade 6 to grade 12, inclusive, that meets a 40% pupil poverty threshold specified in federal law to stock 50% of the school's restrooms with feminine hygiene products, as defined. The bill prohibits a public school from charging for any menstrual products, including feminine hygiene products, provided to pupils.
In July 2020, the County created Meeting the Need for Menstrual Products During School Closures to support schools in continuing to provide menstrual products during COVID-19 school closures.
California Assembly Bill 367, Menstrual Equity for all Act, was signed by Governor Newsom on October 8, 2021. The bill requires:
Public schools, grades 6-12:

Provide free menstrual products (tampons and pads) in all women's bathrooms, all-gender bathrooms, and at least one men's bathroom starting fall 2022.
Post a notice about this requirement in all bathrooms, with a designated school staff person to contact for maintenance.

California State Universities and Community Colleges:

Provide free menstrual products (tampons and pads) in no fewer than one designated and accessible central location starting January 2022.
Same notice requirement.

PUCs and private schools:

Encouraged to do the same
Resources:
Free4Me in the News
County Installs Free Menstrual Product Dispensers in Public Facilities (CNC, May 28, 2021)
San Diego County Installs Free Menstrual Product Dispensers in 23 Public Facilities (NBCSD, May 28, 2021)
KBPS Midday Edition Interview with Dr. Motadel, the County of San Diego's Child Health Officer (KBPS, June 3, 2021)
Learn More About Menstrual Equity
Aunt Flow

The County worked with Aunt Flow to supply free-vending menstrual product dispensers and organic products. Learn more about Aunt Flow and their work in the menstrual equity movement. #GoAuntFlow