Live Well San Diego
Home
Menu
CLOSE
Header Search Box - Custom Content
Youth and Young Adult Video & Visual Art Challenge
Scoop from You(th) Challenge: Opioid Crisis
The County of San Diego is pleased to announce this year's Scoop From You(th) Challenge: Opioid Crisis! Youth and young adults are encouraged to join the challenge to raise awareness about the risks of illicit fentanyl and the importance of naloxone to help prevent opioid-related overdoses through the medium of video and visual art. Eligible participants between the ages of 12-25 may submit a maximum of three entries (no more than one entry per category) for the opportunity to win awards in Silver, Gold, Platinum tiers. Learn more about this challenge by reading through this webpage or the documents below!
Submission opens: May 9, 2023
*EXTENDED: CURRENTLY OPEN FOR SUBMISSIONS*
Complete the Notifications and Updates form to stay up-to date!
Share on Social Media
Eligibility
No purchase necessary. Participants must live in San Diego County with verifiable proof of address and be a youth or young adult 12–25 years of age to enter. Cannot be a County of San Diego employee, staff, judge, or family member of the preceding groups.
Submission Categories
Videos and visual art pieces can be designed using the participant's preferred creative outlet. The videos or visual art will be distributed throughout County sites that will be seen by the public, so we are looking for positive messages in addition to on-topic messaging. Some of our judging criteria includes accuracy of information, appeal to youth, originality, creativity, message, and inspiration. Acceptable submissions include: a TikTok, Instagram Reel, Facebook Story, YouTube video, a painting, meme, poster, handout, flyer, or infographic.
Eligible youth and young adults may participate by submitting up to one entry per category, however the number of entries does not impact an individual's overall score and individuals can only be selected to win one category (Platinum, Gold, or Silver).
Tik Talk: Provide an overview on a topic related to the opioid crisis, such as illicit fentanyl or naloxone. Submissions must be 10 minutes or less and feature at least one resource for the community.
Fast Facts: Create an original handcrafted or digitally designed piece of visual art that highlights at least one fact specifically about illicit fentanyl or naloxone. See Official Entry Requirements, Rules, and Tips for required citations.
Real Reel: Create a 15- to 90-second video that provides a personal testimonial or public service announcement related to the opioid crisis. Submissions must provide a clear call to action.
Winner Selection
All submissions for choosing participant winners will be voted on by a panel of seven or more judges, including representatives from the Live Well San Diego Youth Sector, Rescue Agency, subject matter experts, Behavioral Health Advisory Board members, and community youth organizations.
Winners will need to verify their date of birth and San Diego County address prior to accepting the winning items. Additional verification details will be emailed to the winners to ensure participants met eligibility requirements. If you are under 18 years of age, a parent/guardian must be present in order to receive the prize.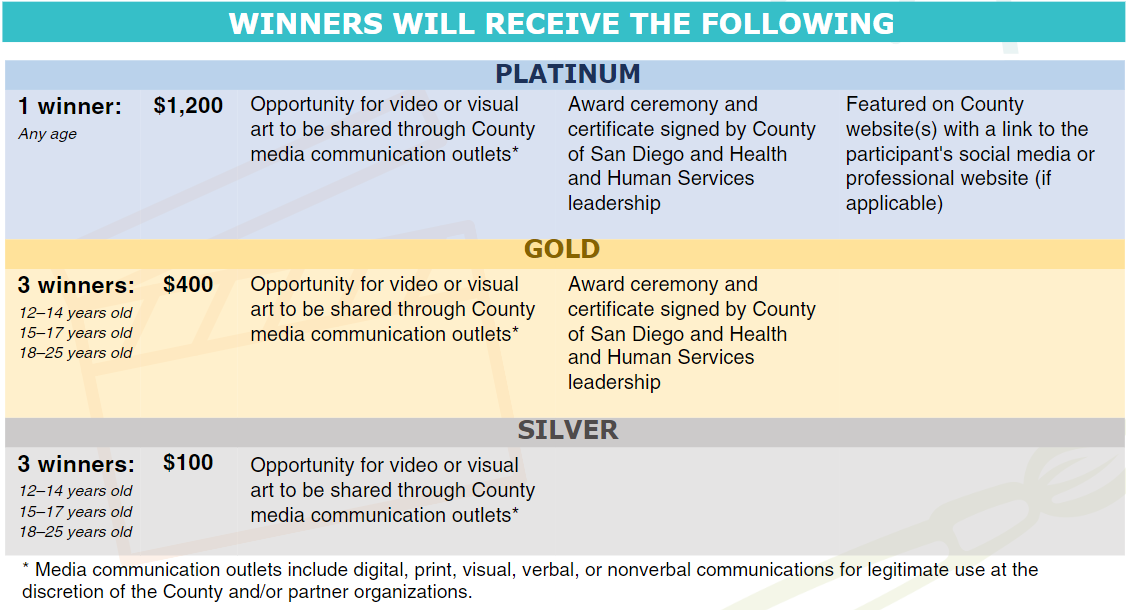 All gift cards awards provided, totaling $2,700, are from contributions made by our sponsor, Rescue Agency.
Sponsored by: